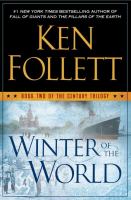 Publishers Weekly
(c) Copyright PWxyz, LLC. All rights reserved

This second installment of Follett's epic Century trilogy is just as potent, engrossing, and prolix as the opening opus, Fall of Giants. Continuing the histrionics of the five families introduced in Fall, this masterfully conceived novel picks up in 1933 as Carla von Ulrich, 11, feels the horror of Nazi encroachment in Germany and proves a staunch resister, while her older brother, Erik, becomes an infatuated soldier. Elsewhere, English student Lloyd Williams aggressively resists the Fascists in the Spanish Civil War. Later, wealthy American brothers Chuck (a closeted homosexual) and Woody Dewar head to the South Seas to fight the good fight as socialite Daisy Peshkov, Woody's first love, is swept up with Lloyd and the drama of war. Rife with plot lines, interpersonal intrigue, sweeping historical flourishes, and an authentic and compelling cast, this is a tale of dynamic characters struggling to survive during one of the world's darkest periods. While some may find Follett's verbosity daunting, others will applaud his dedication and ability to keep so many plots spinning while delivering a story that educates, entertains, and will leave fans eagerly awaiting the trilogy's crowning capstone. (Sept.) (c) Copyright PWxyz, LLC. All rights reserved.
---
Book list
From Booklist, Copyright © American Library Association. Used with permission.

Follett follows the bestselling Fall of Giants (2010) with the eagerly anticipated second volume of his ambitious Century Trilogy. Picking up the disparate plot strands approximately 10 years later, he introduces the next generation of the five original families American, German, Russian, English, and Welsh, respectively as it stands poised on the brink of another international catastrophe. As fascism extends its grip on Europe, the Japanese attack Pearl Harbor, London is blitzed, the Soviet Union is invaded, and the lives of all the interrelated major characters are dramatically and permanently altered. Serving as participants in and witnesses to all the major events of the mid-twentieth century, their dovetailing stories provide a remarkably comprehensive overview of a rapidly evolving chain of events that will challenge and change the course of world history. In the hands of a less gifted writer, these 900-plus pages and the breadth of the subject matter might be daunting, but Follett never lets the action lag as he adeptly ties together all the sweeping economic, cultural, political, and social transformations of the entire era. High Demand Backstory: The first volume in Follett's epic Century Trilogy was a runaway bestseller. Expect immediate high demand as fans of Fall of Giants will be impatient to find out how the main characters and their extended families fare as another world war looms on the horizon.--Flanagan, Margaret Copyright 2010 Booklist
---
Library Journal
(c) Copyright Library Journals LLC, a wholly owned subsidiary of Media Source, Inc. No redistribution permitted.

The second volume in Follett's trilogy of the 20th century traces the intertwined histories of the same five families-Welsh, English, German, Russian and American-that were featured in Fall of Angels. In 1933, Hitler's acolytes seize power; in a particularly disturbing scene, Brownshirts destroy the offices of an opposition newspaper while smiling police look on. By 1948, the Axis has been defeated, but Europe is split between Eastern and Western Europe, Communists are gaining in the West, and the Soviets have the bomb. The Berlin airlift has begun. Follett's latest novel is a tale of heroes and heroic acts. In the hands of a less adroit storyteller, it would be hackneyed, but Follett moves his stock figures through interesting situations and draws the reader in to care what happens to them. The next thing you know, you've read all 960 pages of this enjoyable novel. VERDICT This second installment will be just as popular as its predecessor, and it deserves to be. [See Prepub Alert, 3/5/12.]-David Keymer, Modesto, CA (c) Copyright 2012. Library Journals LLC, a wholly owned subsidiary of Media Source, Inc. No redistribution permitted.