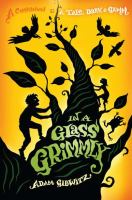 School Library Journal
(c) Copyright Library Journals LLC, a wholly owned subsidiary of Media Source, Inc. No redistribution permitted.

Gr 3 Up-Gidwitz is back with a second book that, if possible, outshines A Tale Dark & Grimm (Dutton, 2010). Once upon a time, in a faraway kingdom, cousins Jack and Jill have had a particularly tough day. Jack has a mean-boy problem: he's bullied and tortured by a clique whom he hero-worships. Jill has a mirror-obsessed, pettily cruel mother who lets her daughter walk naked, unaware, in front of the entire kingdom. But our woe-ridden hero and heroine are in for far worse: a skyscraping beanstalk, a fratlike group of giants, a deadly mermaid, and an oversize fire-breathing salamander show up before these brave, loving, and realistically flawed children get their happily ever after. This book, like the first, features a bold-font "storyteller" who introduces, explains, and comments on the story as it unfolds-usually with alacrity as he promises gore in the pages ahead, but with a fair dose of true insight into the characters and what makes them, like us, human. However, the chapters derive only loosely from fairy tales; they are mostly Gidwitz's inventions, which allows the character and story arcs to congeal into a satisfying whole. Most delightfully, that snarky, insightful narrator reminds us that stories were once verbal, communal experiences. This book begs to be read aloud, preferably to children who delight equally in hearing about pools of vomit and blood and about triumphant heroes.-Allison Bruce, The Children's Storefront, New York City (c) Copyright 2012. Library Journals LLC, a wholly owned subsidiary of Media Source, Inc. No redistribution permitted.
---
Publishers Weekly
(c) Copyright PWxyz, LLC. All rights reserved

The grossness quotient has gone up in Gidwitz's companion to A Tale Dark and Grimm, his grisly reimagining of classic fairy tales. Translation: this second foray is even more enjoyable than the author's acclaimed debut. The protagonists in this installment are Jack, Jill, and a talking frog, whose adventures begin separately in reworkings of "The Frog Prince" and "The Emperor's New Clothes," before the three join forces in "Jack and the Bean-stalk." Parental cruelties are more ordinary this time-mockery, neglect, and recrimination-but what the children find in their quest for the Seeing Glass is horrifying enough to compensate for any perceived softness at the outset. When Jill rescues Jack atop the beanstalk by accepting the giants' eating challenge, even the Monty Python gang might cringe at the results-it's the phrase "no guts, no glory" brought to Technicolor life. Gidwitz can do nuance, too, as Jill's perilous encounter with a sympathetic mermaid demonstrates. Technically polished, and with more original content, this romp has lost none of the edge of its predecessor. Ages 10-up. Agent: Sarah Burnes, the Gernert Company. (Sept.) (c) Copyright PWxyz, LLC. All rights reserved.