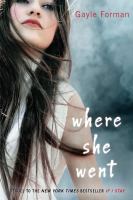 School Library Journal
(c) Copyright Library Journals LLC, a wholly owned subsidiary of Media Source, Inc. No redistribution permitted.

Gr 9 Up-Three years after the tragic accident that killed the family of his former girlfriend, Mia Hall, the now-famous rock star Adam Wilde finds himself at New York City's Carnegie Hall for Mia's breakout cello concert. Convinced that merely hearing her play will be enough to satisfy his curiosity, Adam hides in the audience but is stunned when she asks him to come backstage after the show. Their awkward reunion sparks a night of painful reminiscing, heartbreaking closure, and hopeful discoveries. Using the voice of Adam, Forman continues the gripping narrative started in If I Stay (Dutton, 2009). After months of rehab from the car accident, Mia leaves Oregon for the east coast to attend the prestigious Juilliard School. Adam remains on the west coast to pursue his own rising musical career as the lead in his band. Mysteriously Mia cuts off all contact with him. Simultaneously freed and abandoned, Adam plunges into a depression, which also fuels the writing that launches his band to stardom. This novel is best suited to readers familiar with the first book. However, Forman convincingly establishes the relationship with flashbacks and Adam's current angst. Though not as poignant as its predecessor, this book has compelling characters and a romance so deliciously fated that readers will be willing to suspend believability and embrace the growing mood of a fairy tale. Fans of the exceptional first novel won't be able to put this one down.-Lynn Rashid, Marriotts Ridge High School, Marriottsville, MD (c) Copyright 2011. Library Journals LLC, a wholly owned subsidiary of Media Source, Inc. No redistribution permitted.
---
Book list
From Booklist, Copyright © American Library Association. Used with permission.

This companion to Forman's New York Times best-seller, If I Stay (2009), picks up three years after Oregon teen Mia survived the car accident that killed her parents and brother. Compacted once again into a 24-hour period of seismic emotional shifts, this time the story is narrated by Mia's former boyfriend, Adam. Still haunted by the bewildering dissolution of their relationship, Adam, now a punk-rock star, stumbles across a concert in which Mia, a rising cellist, will perform solo. His spontaneous ticket purchase begins their awkward, charged reunion, and in a sleepless night spent roaming New York City, they talk, argue, and gradually recapture the profound, enduring bonds between them. As in If I Stay, Forman tells an emotionally wrenching story that believably captures the mature depth and intensity possible in teenage love as well as the infinite ways that grief of all kinds permeates daily life, from the wormholes of memory that spin out from small moments to the unconscious ways that past pain can influence present decisions. Sure to please the first book's legions of fans.--Engberg, Gillia. Copyright 2010 Booklist
---
Publishers Weekly
(c) Copyright PWxyz, LLC. All rights reserved

"I know it's really cheesy-crass even-to compare my being dumped to the accident that killed Mia's family, but I can't help it. Because for me, at any rate, the aftermath felt exactly the same." Forman follows up her bestselling If I Stay with a story that is equally if not more powerful, set three years after the previous book and told from the perspective of Mia's former boyfriend, Adam. Mia and Adam haven't seen each other since she left for Juilliard, deserting him just months after emerging from her coma. Adam's anguish found an outlet in songwriting, and the resulting album, Collateral Damage, has become a sensation, turning Adam and his band into bona fide rock stars, though he's barely keeping it together. Mia's career as a cellist is taking off as well, and a chance meeting in New York City gives Mia and Adam the opportunity to exorcise the ghosts of their past. Having spent If I Stay in Mia's head, readers are, like Adam, thrust into a state of unknowing regarding Mia's thoughts and motivations. It's an extremely effective device, and one that makes this reunion all the more heartrending. Ages 14-up. (Apr.) (c) Copyright PWxyz, LLC. All rights reserved.