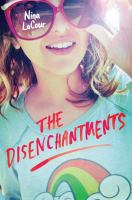 School Library Journal
(c) Copyright 2010. Library Journals LLC, a wholly owned subsidiary of Media Source, Inc. No redistribution permitted.

Gr 9 Up-Enchanting in its depiction of the cusp of young disenchantment, this realistic novel will hit home with many thoughtful YAs. Just after high school graduation but before a long-awaited trip to Europe for Colby and his best friend, Bev, comes a mini-tour, a handful of oddball gigs between San Fran and Portland for Bev's impassioned but technically weak girl band, all in less than a week. No surprise that Colby has been in love with her for longer than he can remember. Big surprise that she has been keeping secret her plan to attend RISD in the fall, not tour Paris and Stockholm. Bev's bandmates, Meg and Alexa, bass and drums respectively, round out the passengers in Colby's Uncle Pete's turquoise vintage VW bus. Lies and life sometimes get in the way of the carefully planned shows and highways, but the people the teens meet and the richness of their experiences take them where they need to go. Colby's dad's old band, a mysterious tattoo linked to a recording's cover art, conversations had and left unspoken, and lots of art-these provide some of the "mountains and canyons" of the contemplative but spectacular narrative. Characters and scenes are created with the same care and attention to detail that Bev spends on her tiny sculptures that allow the people and places of Colby's road trip of passage to pop to life. Profundities will be found or echoed for many readers: we all feel pain, need love, overcome fear, crave beauty-and lose ourselves and gain strength in the elemental force of music.-Suzanne Gordon, Lanier High School, Sugar Hill, GA (c) Copyright 2012. Library Journals LLC, a wholly owned subsidiary of Media Source, Inc. No redistribution permitted.
---
Publishers Weekly
(c) Copyright PWxyz, LLC. All rights reserved

After Colby graduates from high school, his well-laid plans to spend a year traveling through Europe go up in smoke when his travel partner and best friend, Bev, reveals she's going to art school instead. Colby is angry and hurt, but he doesn't have time to do much brooding. He's committed himself to playing chauffeur for Bev's all-girl rock band, the Disenchantments, on their first (and probably last) summer tour. Chronicling the band's road trip up the West Coast, this insightful coming-of-age story expresses how a teen in limbo learns some profound lessons about disappointment, love, and the pursuit of dreams in some unexpected places. Between gigs, Colby meets unlikely kindred spirits-a tattoo artist, a semifamous graffiti artist, and a female farmer-whose outlooks influence his decisions about the future. LaCour (Hold Still) skillfully draws connections between art and life as she delves into the heart of her characters, revealing their fears and celebrating the creative forces that inspire them to reach for the stars. Ages 14-up. Agent: Sara Crowe, Harvey Klinger Inc. (Feb.) (c) Copyright PWxyz, LLC. All rights reserved.
---
Book list
From Booklist, Copyright © American Library Association. Used with permission.

*Starred Review* LaCour's sophomore novel, following her Morris Award finalist Hold Still (2009), features coming-of-age themes truth, uncertainty, pain, passion which are as common as high-school graduates in June. Yet the novel also possesses an on-the-cusp-of-something soul as unique and memorable as new experiences are to every individual teen. The story tells of a group of creative friends who road trip from San Francisco to Portland so that the titular band, comprised of three hot girls, can play gigs (poorly), and the one guy can pine (unrequitedly) before going away to college . . . or not. The tattoo artists, bartenders, secrets, and lies the teens experience along the way are life changing, as they are destined to be; the feelings of betrayal, confusion, and wonder, and the words used to express them, such as love and f-bombs, are so authentic that introspective readers will feel that the characters understand them exactly. LaCour's skill and compassion make proclamations such as We all want to feel something, we want to be someone to one another seem more sincere than sappy and will entice readers to download the girl-band music. This is about the inside and outside of characters, the past and future of their lives and it is astonishing.--Medlar, Andrew Copyright 2010 Booklist