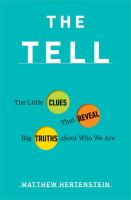 Library Journal
(c) Copyright Library Journals LLC, a wholly owned subsidiary of Media Source, Inc. No redistribution permitted.

Hertenstein (psychology, DePauw Univ.) builds the tone of this study on topics related to the brain, neuroscience, behaviorism, and nonverbal expression from a very easy space. Early chapters detail how he was challenged by a personal experience with nonexpressive behavior and how that encounter piqued his interest in the internal workings of the brain (and a resulting functional magnetic resonance imaging [fMRI] experimentation). Hertenstein smoothly ties this into his evaluation of the current evidence supporting how all of those functions relate to one another. Unlike Barbara and Allan Pease's The Definitive Book on Body Language, this book does not seek to give readers a secret clue to figuring out what everyone around them is thinking; instead, Hertenstein delves into the reasons we can subconsciously understand nonverbal cues almost instantaneously and the biological, genetic, and behavioral origins of that understanding. VERDICT Extremely relatable to the lay reader while still accessing an incredible amount of peer-reviewed scholarship, Hertenstein's work is perhaps the most comprehensive explanation of the correlation of nonverbal communication to genetics and behavior available today. Despite its nonacademic tone, this book has much to teach any reader.-Victoria Frerichs, Prescot, UK (c) Copyright 2014. Library Journals LLC, a wholly owned subsidiary of Media Source, Inc. No redistribution permitted.
---
Publishers Weekly
(c) Copyright PWxyz, LLC. All rights reserved

Drawing on poker's concept of the "tell," a mannerism that can yield clues to an opponent's cards, and numerous behavioral studies in which he has been involved, psychologist Hertenstein has produced a study that is lively and engaging yet unremarkable in its conclusion that both environment and genes influence our decision-making. For example, he reveals that we're able to predict ways an adult might behave by looking at early tells; thus, infants that have insecure attachments to their parents are more likely than those with secure attachments to develop some form of psychopathology later. Various studies have found that facial features can be useful in predicting aggression or lying and cheating: "In carefully controlled studies, men with wider faces were three times more willing to lie than slim-faced men." In dating, women choose men based on facial attractiveness, symmetry, smell, and masculinity, while men choose "women who are attractive, youthful, and display signs of fertility." Despite the inconclusiveness of evolutionary psychology, Hertenstein offers much material to ponder and suggests that we embrace the power of these tools for helping us predict behavior, though he also cautions against an overly prescriptive use of these approaches, which could lead to harmful cultural stereotypes. 31 b&w figures. (Nov.) (c) Copyright PWxyz, LLC. All rights reserved.
---
Choice
Copyright American Library Association, used with permission.

Voltaire famously said that "common sense is not so common," but Hertenstein (developmental psychology, DePauw Univ.) might beg to disagree--at least a bit. He would counter that very often people reveal truths about themselves behaviorally, truths that constitute the idea of the "tell." In effect, the tell is a revealing action that observers who know what to look for, even when behavioral samples are brief, can use to make good predictions or quality decisions. Reading other people is possible if one knows what to look for; common sense can become somewhat more common. Consider the classic research on human attachment, for example; Hertenstein discloses how the famous "strange situation" assesses a child's sense of security, thereby allowing for prediction of later levels of adult adjustment. The book's ten chapters are spread among four sections; these deal with early life (evolved tells), assessing others (intuitive tells), love and deception (divorce tells, deceit tells), and public life (teacher tells, CEO tells, politico tells). An enjoyable read, particularly for nonspecialists; researchers who aspire to write for a popular audience can learn from the author's confident and informative writing style. Summing Up: Recommended. All readers. D. S. Dunn Moravian College