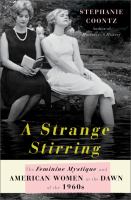 Library Journal
(c) Copyright Library Journals LLC, a wholly owned subsidiary of Media Source, Inc. No redistribution permitted.

Coontz (history & family studies, Evergreen State Coll.; Marriage, a History: How Love Conquered Marriage) recaptures the impact of Betty Friedan's The Feminine Mystique when it was published in 1963. Although Friedan claimed credit for initiating the modern feminist movement, Coontz places the book more dispassionately in its historical context as one of many factors working against entrenched gender roles. Still, Coontz demonstrates persuasively that women readers from many backgrounds found relief-some called it life-saving-in knowing that they were not crazy and not alone in their need to find some work independent of their family roles. Coontz bases her analysis on her survey of almost 200 men and women in addition to interviews, archival research, and oral histories. While she agrees that Friedan spoke mostly to women in affluent families, she asserts that working-class women of all races and African American mothers, both well-to-do and working class, would find some parts of Friedan's analysis on point. Almost 50 years after the book's initial publication, however, there has been little progress in making it easier for mothers-much less fathers-to meld work life and home life. VERDICT Recommended for general and serious readers interested in the history of women.-Cynthia Harrison, George Washington Univ., Washington, DC (c) Copyright 2010. Library Journals LLC, a wholly owned subsidiary of Media Source, Inc. No redistribution permitted.
---
Choice
Copyright American Library Association, used with permission.

Betty Friedan's The Feminine Mystique (1963) is one of the most influential books of the 20th century; but, as historian Coontz (Evergreen State College) points out in her new study of that book, memory of what it actually said has dimmed over the years. Coontz has taken on the job of reevaluating Friedan's groundbreaking work and explaining why, despite the flaws that modern commentators have emphasized, it remains important. She begins by revisiting the original source, expressing her surprise that it is fundamentally a conservative plea for stronger families and better marriages, hardly a call to feminist arms. While acknowledging that the book focuses on the problems suffered by middle-class women who could afford to be stay-at-home wives and mothers, and that Friedan often exaggerated her own centrality to the women's movement that grew up around her, Coontz makes a solid case for the valuable aspects of Friedan's analysis, especially her legitimization of the unhappiness experienced by educated post-WW II housewives. That Americans now assume that wives and mothers deserve an independent existence apart from their families is, Coontz feels, an important legacy that demands recognition. Summing Up: Recommended. All levels/libraries. R. A. Standish San Joaquin Delta College
---
Book list
From Booklist, Copyright © American Library Association. Used with permission.

Nearly 50 years after Betty Friedan transformed the lives of American housewives, Coontz (Marriage, a History, 2005) offers a biography of Friedan's seminal book, The Feminine Mystique (1963). Coupling meticulous research with first-person interviews, Coontz challenges a number of Friedan's assumptions and exaggerations while also revisiting the climate in which the work appeared and giving voice to women for whom The Feminine Mystique was nothing short of a lifesaver. Though critical of the work on a number of fronts, including its omission of working-class and minority women, Coontz lauds other aspects of The Feminine Mystique, such as its condemnation of mainstream psychiatry, which promoted the notion that women had no need to search for meaning in their lives beyond their roles as wives and mothers. As women continue to struggle with the effort to balance life and work, Coontz argues that The Feminine Mystique remains as relevant today as it when it first appeared. In tracing the roots of current discontents, which Coontz dubs the Supermom Mystique, her book is no less required reading than Friedan's trailblazer.--Wetli, Patty Copyright 2010 Booklist
---
Publishers Weekly
(c) Copyright PWxyz, LLC. All rights reserved

Social historian Coontz (Marriage, a History) analyzes the impact of Betty Friedan's groundbreaking 1963 book, The Feminine Mystique, on the generation of white, middle-class women electrified by Friedan's argument that beneath the surface contentment, most housewives harbored a deep well of insecurity, self-doubt, and unhappiness. The Feminine Mystique didn't call for women to bash men, pursue careers, or fight for legal and political rights, says Coontz; it simply urged women to pursue an education and prepare for a meaningful life after their children left home. Coontz contends that Friedan's great achievement was lifting so many women out of despair even if her book ignored the problems of working women, especially blacks, and tapped into concerns people were already mulling over. Friedan synthesized and made accessible scholarly research and personalized it with the stories of individual housewives. Friedan's self-representation as an apolitical suburban housewife, says Coontz, glossed over her 1930s and '40s leftist political activism so as not to be blacklisted or discredited because of prior associations. This perceptive, engrossing, albeit specialized book provides welcome context and background to a still controversial bestseller that changed how women viewed themselves. (Jan.) (c) Copyright PWxyz, LLC. All rights reserved.