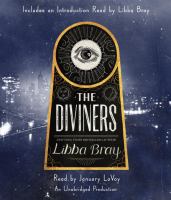 Publishers Weekly
(c) Copyright PWxyz, LLC. All rights reserved

After committing a small indiscretion, Evie O'Neill couldn't be happier when her parents exile her from small-town Ohio to live with her uncle in 1920s New York City. A life of fashion, speakeasies, dancing, and music is exactly what 17-year-old Evie wants. But when her Uncle Will, who manages a museum of occult history and artifacts, is drawn into a police investigation of a bizarre and gruesome series of murders, Evie finds herself involved as well-and this means she may be forced to reveal her supernatural powers. Narrator January LaVoy provides lively, magnetic narration and gives unique voices to the book's cast of fascinating characters. Listeners both young and old will enjoy this supernatural story and find this audio edition enthralling, irresistible entertainment. Ages 15-up. A Little Brown hardcover. (Sept.) (c) Copyright PWxyz, LLC. All rights reserved.
---
School Library Journal
(c) Copyright Library Journals LLC, a wholly owned subsidiary of Media Source, Inc. No redistribution permitted.

Gr 10 Up-Printz winner Libba Bray's latest literary masterpiece (Little, Brown, 2012) is stunning, suspenseful, and sure to leave listeners utterly breathless. Thoroughly modern flapper Evie O'Neill's psychic ability to divine secrets from inanimate objects gets her exiled from her stuffy Ohio town. Sent to stay with her Uncle Will in Prohibition-era New York City, the last thing Evie expects is to be thrown headlong into a terrifying, and seemingly paranormal, serial murder mystery. Crime scene evidence leads Evie to believe the killer is John Hobbes, a religious leader and madman who was hanged for murder 50 years ago. It seems "Naughty John" has returned from the grave to complete a deadly ritual to bring about the apocalypse. Evie believes her abilities can help stop this killer. But there are others with unique powers as well, including a clairvoyant child and a man with healing powers. Circumstances gradually draw these Diviners together. Are they strong enough to stop the evil that's been unleashed? Not for the faint of heart, this spellbindingly creepy ghost story will keep listeners enthralled long into the night-preferably with the lights on. Bray's writing is brilliant. Intricately detailed storylines interweave perfectly with a cast of richly drawn characters. Period slang and historical details help set the scene. January LaVoy's exceptional narration skyrockets an already outstanding story to the next level. Characters live and breathe through distinctive voices, complete with accents and dialects. Perfect pacing bestows the story with a constant edge-of-the-seat ambiance. A must-have.-Alissa Bach, Oxford Public Library, MI (c) Copyright 2012. Library Journals LLC, a wholly owned subsidiary of Media Source, Inc. No redistribution permitted.