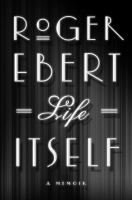 Publishers Weekly
(c) Copyright PWxyz, LLC. All rights reserved

It's hardly surprising that Ebert, the Pulitzer Prize-winning film critic for the Chicago Sun-Times since 1967, begins this candid examination of an extraordinary life with an allusion to Ingmar Bergman's Persona, about an actress who loses her voice in mid-performance. Though three thyroid cancer surgeries resulting in the removal of his lower jaw have left Ebert unable to speak, eat, or drink, these are not famous last words. Forgoing a traditional linear format, each chapter-particularly "My Old Man" and "Big John Wayne"-could function as a stand-alone essay. Born in Urbana, Ill., in 1942, Ebert spent a carefree childhood, often with his nose in a book. Drawn to newspapers beginning in high school, he became the sports reporter for his school paper before rising to the rank of co-editor. The position of film critic fell into his lap at the Sun-Times-a paper he joined after leaving a graduate English program-and Ebert hasn't looked back. And while films have governed his life for close to 50 years, he wisely doesn't choose the greatest hits version of his reviewing career, focusing instead on the life he's lived in between screenings: his battle with alcoholism; tight-knit friendships forged in the newsroom (and bar); and his marriage to Chaz, whom he calls "the great fact of my life." Hollywood gets its due, but it's an ensemble player, sharing the screen with reminiscences both witty and passionate from one of our most important cultural voices. (Sept.) (c) Copyright PWxyz, LLC. All rights reserved.
---
Library Journal
(c) Copyright Library Journals LLC, a wholly owned subsidiary of Media Source, Inc. No redistribution permitted.

Perhaps best known for his thumbs-up, thumbs-down film criticism on television with the late Gene Siskel, journalist Ebert looks back at his eventful life. Unable to speak at all or eat and drink normally after being treated for thyroid cancer diagnosed in 2002, he here recalls his newspaper career, his many years on television, and his interviews with prickly celebrities like Robert Mitchum, Lee Marvin, Ingmar Bergman, and John Wayne. This basically chronological account begins with his Illinois childhood among a close-knit family. A smart and ambitious journalist, Ebert met many of the prominent figures of his day and, ultimately, became a Pulitzer Prize-winning media personality himself. He remains determined to carry on despite his formidable physical obstacles. Verdict This readable but rather dryly written memoir will likely be of most interest to those fascinated by the old-time legendary leading men of Hollywood and to movie fans influenced by Ebert's often acerbic film critiques. [See Prepub Alert, 3/21/11.]-Roy Liebman, Los Angeles P.L. (c) Copyright 2011. Library Journals LLC, a wholly owned subsidiary of Media Source, Inc. No redistribution permitted.
---
Book list
From Booklist, Copyright © American Library Association. Used with permission.

*Starred Review* Ebert is best known, of course, as the nation's most prominent film critic; but in recent years, he's turned to exploring more personal concerns on his widely read blog, leading to this poignant memoir. Five years ago, surgeries following thyroid cancer left him unable to speak, eat, or drink, but as he recounts, he began to replace what I lost with what I remembered. This enhanced recall allows him to relate with exhaustive detail his halcyon if unremarkable childhood in a small town in the Midwest and his life-changing college days. When the narrative turns to journalism and, inevitably, movies, as Ebert falls into his reviewing gig at the Chicago Sun-Times in 1967, the focus becomes sharper, and even the tangential chapters devoted to topics ranging from his encounters with film legends to his stormy relationship with TV partner Gene Siskel are cogently engaging. But it's the most personal segments, dealing with his struggle with alcoholism, his supportive wife, Chaz, and his recent illness, that give the book its considerable emotional heft. Ebert illuminates and assesses his life with the same insight and clarity that mark his acclaimed movie reviews.--Flagg, Gordo. Copyright 2010 Booklist