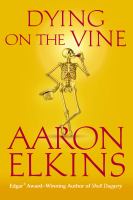 Publishers Weekly
(c) Copyright PWxyz, LLC. All rights reserved

Edgar-winner Elkins's cleverly plotted 18th Gideon Oliver mystery (after 2009's Skull Duggery) takes the man "known throughout the world of forensic science as the Skeleton Detective" to Tuscany, where he looks into the apparent murder-suicide of Pietro Cubbiddu, the strong-willed patriarch of the famous Cubbiddu wine-making family, and Pietro's wife, Nola. After examining the remains, Gideon concludes that it's an unusual double homicide instead. The family and its confidantes had motive and opportunity for killing the couple-but why push the bodies off a cliff, then shoot them after they're already dead? The later murder of an estranged half-brother of the three grown Cubbiddu sons creates both clues and confusion. A convincing resolution more than offsets the painstaking discussions of the manner of death that initially slow the pace. Evocations of Tuscany and a lively cast of supporting characters, notably feisty police lieutenant Rocco Gardella, balance the cerebral investigation with charm. Agent: Lisa Erback Vance, Aaron M. Priest Literary. (Dec.) (c) Copyright PWxyz, LLC. All rights reserved.
---
Book list
From Booklist, Copyright © American Library Association. Used with permission.

*Starred Review* The latest in Elkins' Edgar-winning Gideon Oliver series delivers another delicious blend of forensic science and a to-die-for setting. Part of Elkins' appeal is the way he gives intriguing facts and travel tips for exotic or romantic settings. This time it's Florence and the vineyards of Val d'Arno. When Oliver, a forensic anthropologist and professor at the University of Washington, gives a lecture at an international symposium in Florence on how skeletal remains can help solve murders, the local cops offer to take the class to view a set of bones, remnants from a murder-homicide solved the preceding year. Or was it? As usual in this series, the bones speak to Gideon Oliver in ways that the cops missed, and in ways the reader will find both compelling and convincing. The bones belong to the wife of another victim, her husband, whose body was cremated. This husband and wife (here comes the plot stretch) were the heads of a wine-making clan that Oliver and his wife were scheduled to visit. Oliver's intensive forensic exam, plus his questioning of the relatives after he and his wife are ensconced in the family home, totally upends the police conclusions. The family turns out to be as tricky as the Borgias, and the motives for murder elbow each other for precedence. Much about wine, Florence, forensics, and evil. Great bouquet.--Fletcher, Connie Copyright 2010 Booklist
---
Library Journal
(c) Copyright Library Journals LLC, a wholly owned subsidiary of Media Source, Inc. No redistribution permitted.

After a three-year hiatus, "Skeleton Detective" Gideon Oliver heads to Tuscany in his 17th entry (after Skull Duggery). The vineyards hold dark secrets for his friends. (c) Copyright 2012. Library Journals LLC, a wholly owned subsidiary of Media Source, Inc. No redistribution permitted.