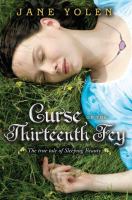 School Library Journal
(c) Copyright Library Journals LLC, a wholly owned subsidiary of Media Source, Inc. No redistribution permitted.

Gr 7-10-In this imaginative retelling, the jealous, overlooked fairy who curses Sleeping Beauty is recast as a sickly, bookish teenager. Thirteen-year-old Gorse belongs to the Shouting Fey, a clan of mischievous fairies with powerful voices. In a subversive departure from the original tale in which benevolent fairies bestow gifts at the infant's christening, Yolen portrays the relationship between the royal family and the Shouting Fey as downright feudal. Tied to their land by an ancient oath, the Fey are compelled to perform spells at the whim of their capricious monarchs. On the day of the christening, Gorse rushes to the palace only to fall down a hole into a cave where she discovers two fey princes who have been banished for years, as well as revelations about her family's past. The frequent references to fairy lore are occasionally overwhelming; however, Yolen has crafted an intricate world full of well-developed characters. The incantations that the fey often invoke ("Blow and sow/This fertile ground/Until the knot/Be all unwound") add a lyrical quality to the elegant prose. Readers who typically prefer fairy-tale retellings, such as those by Donna Jo Napoli or Robin McKinley, may be put off because the plot largely revolves around Gorse's escape from the cave rather than Sleeping Beauty herself, but fans of more unconventional fantasy adaptations, such as Gregory Maguire's Wicked (HarperCollins, 1995), will enjoy seeing an antagonist receive a rich, compelling backstory.-Mahnaz Dar, School Library Journal (c) Copyright 2012. Library Journals LLC, a wholly owned subsidiary of Media Source, Inc. No redistribution permitted.
---
Book list
From Booklist, Copyright © American Library Association. Used with permission.

Yolen follows up Snow in Summer (2011), an Appalachian retelling of Snow White, with this fey reimagining of Sleeping Beauty. It is based on a short story written by Yolen about Gorse, the thirteenth child of an elf and a Shouting Fey. The Shouters are a family of fairies bound to an unscrupulous king who can force them to grant him any wish failure to do so will result in death via bursting into a thousand stars. Gorse is young, susceptible to fever, and accident-prone, and a moment of haste lands her in a trap with far-reaching ramifications. Readers interested in the Sleeping Beauty angle will have to be patient while Gorse's story unfolds. She spends much of the book trying to escape from an enchanted underground prison, learning to harness her own magic, discovering the wits at her disposal, and befriending a fellow fey trapped by an oath of his own. Still, the book has a marvelous cadence that creates a world both ancient yet familiar and lends itself well to reading aloud. Fans of fairy tale adaptations will enjoy this well-imagined retelling.--Dean, Kara Copyright 2010 Booklist
---
Publishers Weekly
(c) Copyright PWxyz, LLC. All rights reserved

Yolen follows her Snow White retelling, Snow in Summer (2011), with a similarly inventive spin on Sleeping Beauty (like that book, this novel also derives from one of the author's short stories). Half elf, half fey, Gorse is the youngest of 13, and as such, she is the last to learn of the oath that ties her family to the kingdom and requires them to do Royal Biddings, under penalty of bursting into a thousand stars. When Gorse is 13 years old, a Bidding comes down to bestow blessings on the newborn princess, Talia. Rushing to get to the castle, Gorse falls into a magical trap, and so begins an adventure that eventually results in her delivering an accidental gift to the princess. Yolen's trademark humor is apparent throughout ("He clearly never met a comma or period he liked," Gorse remarks after her family receives the king's Bidding), and while the story takes some time getting started, as Gorse shares stories of family history and magical mishaps, that by no means detracts from its many pleasures. Ages 10-up. Agent: Elizabeth Harding, Curtis Brown. (Nov.) (c) Copyright PWxyz, LLC. All rights reserved.