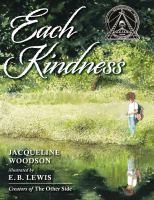 Book list
From Booklist, Copyright © American Library Association. Used with permission.

*Starred Review* Starting with the title, this quiet, intense picture book is about the small actions that can haunt. As in collaborations such as Coming on Home Soon (2004), Woodson's spare, eloquent free verse and Lewis' beautiful, spacious watercolor paintings tell a story for young kids that will touch all ages. In a first-person voice, Chloe speaks about how a new girl in class, Maya, gets the empty seat next to her and tries to be friends. But Chloe and her clique will have none of the poor white kid in her old ragged clothes, and their meanness intensifies after Maya asks to play with them. Then Maya's family moves away, and she is forever gone, leaving Chloe without the chance to put things right. Chloe's teacher spells out lessons of kindness, but the story is most powerful in the scenes of malicious bullying in the multiracial classroom and in the school yard. It is rare to tell a story of cruelty from the bully's viewpoint, and both the words and pictures powerfully evoke Chloe's shame and sorrow over the kindness she has not shown, as she looks at the empty seat next to her in the classroom, and then, alone and troubled, throws a stone in the water and watches the ripples move out and away. HIGH-DEMAND BACKSTORY: The combined talents and star power of Woodson and Lewis will undoubtably create plenty of pre-pub. buzz.--Rochman, Hazel Copyright 2010 Booklist
---
School Library Journal
(c) Copyright Library Journals LLC, a wholly owned subsidiary of Media Source, Inc. No redistribution permitted.

Gr 2-5-Always on-target navigating difficulties in human relationships, Woodson teams up with Lewis to deal a blow to the pervasive practice-among students of all economic backgrounds-of excluding those less fortunate. When a new student arrives midterm, head down, with broken sandals, she sits right next to Chloe, an African American girl. The teacher introduces the pigtailed new student as Maya, but hardly anyone says hello, nor does Chloe give a welcoming smile. Lyrical and stylistically tight writing act in perfect counterpoint to the gentle but detailed watercolor paintings of a diverse rural classroom. Chloe's best friends "this year" call Maya "Never New" because her clothes are always secondhand. Each time the cheerful, independent Maya invites the clique members to play, they refuse. Woodson's writing, full of revelation and short on reckoning, gives opportunity for countless inferences and deep discussion and dovetails with the illustrations of children's facial expressions from surprising angles, expansive countryside views, and pools of water and windows, which invite readers to pause, reflect, and empathize. When their teacher invites them to throw a pebble in water and watch the ripples radiate to symbolize an act of kindness they share with the class, Chloe stops. Maya no longer is there. Her family has had to move. Had Chloe been kind even once? With growing income disparity, and bullying on the rise, this story of remorse and lost opportunity arrives none too soon.-Sara Lissa Paulson, American Sign Language and English Lower School, New York City (c) Copyright 2012. Library Journals LLC, a wholly owned subsidiary of Media Source, Inc. No redistribution permitted.
---
Publishers Weekly
(c) Copyright PWxyz, LLC. All rights reserved

When a new and clearly impoverished girl named Maya shows up at school ("Her coat was open and the clothes beneath it looked old and ragged"), Chloe and her friends brush off any attempt to befriend her. Even when Maya valiantly-and heartbreakingly-tries to fit in and entice the girls to play with her, she is rejected. Then one day, Maya is gone, and Chloe realizes that her "chance of a kindness" is "more and more forever gone." Combining realism with shimmering impressionistic washes of color, Lewis turns readers into witnesses as kindness hangs in the balance in the cafeteria, the classroom, and on the sun-bleached playground asphalt; readers see how the most mundane settings can become tense testing grounds for character. Woodson, who collaborated with Lewis on The Other Side and Coming On Home Soon, again brings an unsparing lyricism to a difficult topic. The question she answers with this story is one that can haunt at any age: what if you're cruel to someone and never get the chance to make it right? Ages 5-8. Agent: Charlotte Sheedy Literary Agency. Illustrator's agent: Dwyer & O'Grady. (Oct.) (c) Copyright PWxyz, LLC. All rights reserved.