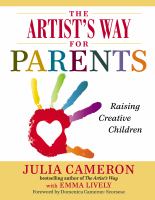 Publishers Weekly
(c) Copyright PWxyz, LLC. All rights reserved

In this latest volume of her popular Artist's Way series, Cameron addresses parents. Using checklists and personal exercises, the book focuses on empowering parents to be creative under the premise that children will model their behavior on that of their parents, though many parents may have sacrificed their creativity when children came along. In addition to establishing the three daily habits of Morning Pages (journaling), Creative Expeditions (fun activities with your kids), and Highlights (reviewing the best parts of the day at bedtime), Cameron gives practical, but occasionally tired advice about providing creative space for children in the home, taking time for oneself as a parent, reducing clutter, and not being afraid to play or make a mess; she also includes reminders about proper diet, exercise, and sleep habits. The book is filled with anecdotes praising Cameron's mother and self-congratulatory asides about the way Cameron raised her own daughter. A little humility would go a long way, as no parent can sympathize with someone who believes she has it all figured out. Some may find the repeated references to God off-putting, despite Cameron's claim that she's making a larger spiritual connection that isn't necessarily Christian. Still, the reminders to look for joy and wonder may be revelatory for Cameron's readers and their kids. Agent: Susan Raihofer, David Black Literary Agency. (Aug.) (c) Copyright PWxyz, LLC. All rights reserved.
---
Library Journal
(c) Copyright Library Journals LLC, a wholly owned subsidiary of Media Source, Inc. No redistribution permitted.

Cameron's acclaimed The Artist's Way (1992) is practically an institution in and of itself. Here she focuses on how parents can nurture creativity in their children ages 0-12. Cameron gently reminds readers that we are spiritual beings with creativity a part of our DNA. By using three basic tools (morning pages, creative expeditions, and highlights), Cameron demonstrates how to cultivate curiosity, connection, self-expression, discovery, and more. Unlike many parenting titles that put the bulk of the work on mom and dad to institute change and/or orchestrate activities, Cameron concentrates on clever ways for children and parents to develop their own individual and spiritual creativity while at play. She is a strong advocate for independence, arguing that we do not need to abandon our children to get back to ourselves. VERDICT Cameron's approach of valuing the artistic process in all people makes the book feel like familial terroir, where a parent's creative habits trickle down into the souls of the youngest scribblers. Her style is uplifting, spiritually motivated, and rich in narrative. Recommended for the many readers who loved The Artist's Way. (c) Copyright 2013. Library Journals LLC, a wholly owned subsidiary of Media Source, Inc. No redistribution permitted.