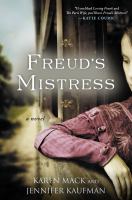 Library Journal
(c) Copyright Library Journals LLC, a wholly owned subsidiary of Media Source, Inc. No redistribution permitted.

Too outspoken to succeed as a lady's companion or to settle for a marriage of convenience, Minna Bernays seeks a temporary solution to her financial difficulties by moving in with her sister Martha's family. Overwhelmed by managing a household with six young children, Martha welcomes Minna's assistance. Her husband, Sigmund Freud, rarely interacts with the family and concentrates on unconventional psychological theories at odds with those of his academic colleagues. Unlike Martha, Minna finds his ideas about sexuality intriguing, if also disturbing. She tries to deny the physical tension underlying their late-night conversations. Freud has no such qualms. Despite Minna's attempts to break from him, his attraction proves overwhelming. Although this third novel by Mack and Kaufman (Literacy and Longing in L.A.; A Version of the Truth) focuses on Minna, the narrative develops other characters as well. Martha can be manipulator as well as victim. Freud's intellect and charm shine through his self-centeredness. Rumors about Freud and his sister-in-law, who in real life lived with the family for more than 40 years, abound. This novel, inspired by historical events, places the possible affair between Freud and Minna firmly in the intellectual and social milieu of fin de siecle Vienna. VERDICT Historical romance fans will speed through the pages and find fodder for book club discussions. [See Prepub Alert, 1/26/12.]-Kathy Piehl, Minnesota State Univ. Lib., Mankato (c) Copyright 2013. Library Journals LLC, a wholly owned subsidiary of Media Source, Inc. No redistribution permitted.
---
Publishers Weekly
(c) Copyright PWxyz, LLC. All rights reserved

A portrait of forbidden desire based on historical speculations, Mack and Kaufman's thoroughly researched novel explores the difficult moral questions that can arise from adultery. It all begins in 1895 at Berggasse 19 in Vienna, an apartment that's home to Sigmund and Martha Freud, their six children, and the household's latest addition, Minna Bernays, Martha's sister, who's in between jobs. In contrast to her hypochondriac domestic sister, Minna is an unmarried, intellectually inclined "bibliomaniac," and is stimulated, rather than repulsed, by Sigmund's research-especially his controversial theories about sexuality. Minna happily strokes her brother-in-law's ego in drug-fueled late-night discussions of philosophy, his patients' sexual traumas, and his own difficult marriage. When Minna finally comes to terms with her attraction to the charismatic Sigmund, she tries to resist these dangerous impulses, only to fall into a passionate affair after an improbably romantic overture from the father of psychoanalysis. Minna grapples with the "burden of betrayal" and Sigmund's cunning rationalizations while trying to answer this novel's cliched but nonetheless thought-provoking central question: how far are you willing to go to be happy? Agent: Molly Friedrich, Friedrich Agency. (July) (c) Copyright PWxyz, LLC. All rights reserved.
---
Book list
From Booklist, Copyright © American Library Association. Used with permission.

After being dismissed from yet another position as a lady's companion, Minna Bernays sheepishly moves in with her older sister to help run the household and take care of Martha's six children. Martha's husband doesn't seem to be much help as the brainy Sigmund Freud is refining a set of psychological theories that Viennese society finds controversial, Martha finds perverse, but Minna finds fascinating. Sigmund and Minna quickly develop an intellectual bond, but she becomes consumed with thoughts of a more intimate relationship. As intellectual and romantic horizons open for Minna, she wonders if the risk is worth the reward. Inspired by the real affair between Sigmund Freud and his sister-in-law, Freud's Mistress combines the glamor of high-society Vienna and the squalor and scandal of the servant class. Mack and Kaufman skillfully mix fact and fiction, rounding out details of the famous analyst's academic work with depictions of his home life and Viennese society. A thrilling story of seduction, betrayal, and loss, Freud's Mistress will titillate fans of Memoirs of a Geisha (1997) and The Other Boleyn Girl (2002).--Turza, Stephanie Copyright 2010 Booklist