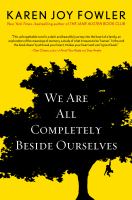 Publishers Weekly
(c) Copyright PWxyz, LLC. All rights reserved

It's worth the trouble to avoid spoilers, including the ones on the back cover, for Fowler's marvelous new novel; let her introduce the troubled Cooke family before she springs the jaw-dropping surprise at the heart of the story. Youngest daughter Rosemary is a college student acting on dangerous impulses; her first connection with wild-child Harlow lands the two in jail. Rosemary and the FBI are both on the lookout for her brother Lowell, who ran away after their sister Fern vanished. Rosemary won't say right away what it was that left their mother in a crippling depression and their psychology professor father a bitter drunk, but she has good reasons for keeping quiet; what happens to Fern is completely shattering, reshaping the life of every member of the family. In the end, when Rosemary's mother tells her, "I wanted you to have an extraordinary life," it feels like a fairy-tale curse. But Rosemary's experience isn't only heartbreak; it's a fascinating basis for insight into memory, the mind, and human development. Even in her most broken moments, Rosemary knows she knows things that no one else can know about what it means to be a sister, and a human being. Fowler's (The Jane Austen Book Club) great accomplishment is not just that she takes the standard story of a family and makes it larger, but that the new space she's created demands exploration. Agent: Wendy Weil, the Wendy Weil Agency. (June) (c) Copyright PWxyz, LLC. All rights reserved.
---
Book list
From Booklist, Copyright © American Library Association. Used with permission.

*Starred Review* As a girl in Indiana, Rosemary, Fowler's breathtakingly droll 22-year-old narrator, felt that she and Fern were not only sisters but also twins. So she was devastated when Fern disappeared. Then her older brother, Lowell, also vanished. Rosemary is now prolonging her college studies in California, unsure of what to make of her life. Enter tempestuous and sexy Harlow, a very dangerous friend who forces Rosemary to confront her past. We then learn that Rosemary's father is a psychology professor, her mother a nonpracticing scientist, and Fern a chimpanzee. Fowler, author of the best-selling The Jane Austen Book Club (2004), vigorously and astutely explores the profound consequences of this unusual family configuration in sustained flashbacks. Smart and frolicsome Fern believes she is human, while Rosemary, unconsciously mirroring Fern, is instantly tagged monkey girl at school. Fern, Rosemary, and Lowell all end up traumatized after they are abruptly separated. As Rosemary lonely, unmoored, and caustically funny ponders the mutability of memories, the similarities and differences between the minds of humans and chimps, and the treatment of research animals, Fowler slowly and dramatically reveals Fern and Lowell's heartbreaking yet instructive fates. Piquant humor, refulgent language, a canny plot rooted in real-life experiences, an irresistible narrator, threshing insights, and tender emotions Fowler has outdone herself in this deeply inquisitive, cage-rattling novel.--Seaman, Donna Copyright 2010 Booklist
---
Library Journal
(c) Copyright Library Journals LLC, a wholly owned subsidiary of Media Source, Inc. No redistribution permitted.

Fowler (The Jane Austen Book Club) has written a strong, unsettling novel that draws on true accounts of animal behaviorists raising chimps with infant children. Narrator Rosemary Cooke, now nearing 40, tells a heartbreaking story of her family and a pivotal event that has haunted her all her life. When Rosemary was a month old, her psychologist father brought a three-month-old chimp named Fern into the family to be raised as a sibling to Rosemary and her older brother, Lowell. This experiment, complete with interns moving in to record their observations, comes to an abrupt halt when Rosemary is five. Fern simply disappears, and Rosemary finds the loss of her simian playmate emotionally devastating. Rosemary struggles to understand and to accept that, innocent mistake or not, her actions were possibly responsible for Fern's being sent away. Taunted at school by the nickname "monkey girl" and later distressed by the sudden disappearance of Lowell, on the lam from the FBI, Rosemary fights her demons to alleviate the damage. -VERDICT Fowler explores the depths of human emotions and delivers a tragic love story that captures our hearts. [See Prepub Alert, 11/25/12.]-Donna Bettencourt, Mesa Cty. P.L., Palisade, CO (c) Copyright 2013. Library Journals LLC, a wholly owned subsidiary of Media Source, Inc. No redistribution permitted.