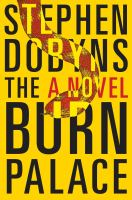 Book list
From Booklist, Copyright © American Library Association. Used with permission.

Award-winning poet and veteran novelist Dobyns, who also pens the Charlie Bradshaw mystery series, sets his latest thriller in Brewster, Rhode Island, a small town beset by a series of strange occurrences that may be supernatural in nature. Detective Woody Potter has been wracked by emotional turmoil ever since his girlfriend left him. But he knows he's in for an even rougher patch on the job when he's called to the hospital in the middle of the night. Someone has stolen a newborn baby and left a huge red-and-yellow snake in the infant's crib. Then the scalped corpse of an insurance investigator turns up in a parking lot. Throw in a local Wiccan sect, some out-of-control coyotes, and an unemployed plumber who has taken to growling at people, and you have a recipe for small-town hysteria. Dobyns peoples this literary chiller with a fully rounded cast of memorable characters, from an eerily self-possessed 10-year-old with an unusual gift to an opera-loving policeman who secretly longs to be a set designer. Expertly paced and smoothly written, this should appeal to both thriller and horror fans.--Wilkinson, Joanne Copyright 2010 Booklist
---
Publishers Weekly
(c) Copyright PWxyz, LLC. All rights reserved

The latest from the prolific Dobyns (after Eating Naked) is by turns an affectionate portrait of smalltown life, a terrifying supernatural thriller, and a sly horror comedy. Brewster, R.I., is a sleepy burg populated with a cast of lovable eccentrics. But something is wrong in this prototypical New England town. First, a baby is stolen from a local hospital and a huge striped snake put in the bassinet in its place. Then a body is found scalped in the woods. Meanwhile, packs of murderous coyotes make increasingly daring attacks on the townspeople. Most disturbing of all, locals begin coming forward with stories of strange rituals in the woods. For detective Woody Potter and acting police chief Fred Bonaldo, it's obvious something evil is afoot, perhaps to do with the town's new yoga center, or maybe linked to suspicious goings-on at the nearby funeral home. As the authorities descend from multiple jurisdictions creating chaos, it takes the help of young Hercel McGarity Jr., a 10-year-old who may possess the town's only benign magical powers, to give the people of Brewster a chance to defend themselves against something far darker than anyone imagined. Despite the novel's complexity, Dobyns gives his many characters space to come alive and allows each of the spooky subplots time to build maximum suspense. Scenes of young Hercel being menaced by a madman start out merely disturbing, but turn into some of the scariest in recent literature. Dobyn's tone, shifting from amused to sinister and back again, elevates the material by buttressing the horror with pitch black humor. A tour de force genre buster that could be a breakout. Agent: Phyllis Westberg, Harold Ober Associates. (Feb.) (c) Copyright PWxyz, LLC. All rights reserved.
---
Library Journal
(c) Copyright Library Journals LLC, a wholly owned subsidiary of Media Source, Inc. No redistribution permitted.

Brewster, RI, is a small town in a small state, and seems an unlikely place for drama. But this is New England, and how better to stir hysteria and cover up a crime ring than to invoke witchcraft? Poet and novelist Dobyns performs just this bit of magic in his first novel since 1999's Boy in the Water. State trooper Woody Potter is called to Brewster when a baby disappears from the hospital, with a snake left in its bassinet instead. As Halloween approaches, the baby snatching turns out to be the first in a string of strange occurrences in town, including satanic ceremonies, coyotes in the streets, and murder. The mayhem borders on complete chaos until Woody, his partner Bobby, and other state troopers start to put the pieces together and discover the real-world sources of the related crimes. VERDICT This is an intricate who-done-it with richly drawn characters, a superb sense of place, and just enough otherworldly action to tantalize. Requiring close attention, it is not for those looking for a quick read but should appeal to readers of literary mysteries and lovers of New England fiction. [See Prepub Alert, 8/3/12]-Nancy H. Fontaine, Norwich P.L., VT (c) Copyright 2013. Library Journals LLC, a wholly owned subsidiary of Media Source, Inc. No redistribution permitted.