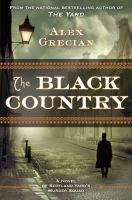 Library Journal
(c) Copyright Library Journals LLC, a wholly owned subsidiary of Media Source, Inc. No redistribution permitted.

The Murder Squad is back on the case! When a small boy and his parents go missing, Insp. Walter Day and Sgt. Nevil Hammersmith trade the fog of London for the coal mines of the British Midlands.The duo arrive in the tiny village of Blackhampton, weighted down under a thick layer of snow, secrets, and superstition. Soon, the case that was supposed to be open-and-shut has developed more twists and turns than the labyrinthine mining tunnels underlying the village. As a deadly stranger watches, more villagers disappear and Hammersmith develops a mysterious illness. Verdict Grecian's (The Yard) latest Murder Squad adventure is a fast-paced homage to the Victorian countryside mysteries of Wilkie Collins (The Moonstone; The Woman in White) and Charles Dickens (Bleak House; The Mystery of Edwin Drood). Recommended for Anglophiles, period mystery enthusiasts, and anyone interested in medical Victoriana. [See Prepub Alert, 11/12/12.]-Liv Hanson, Chicago (c) Copyright 2013. Library Journals LLC, a wholly owned subsidiary of Media Source, Inc. No redistribution permitted.
---
Book list
From Booklist, Copyright © American Library Association. Used with permission.

*Starred Review* In March 1890, Scotland Yard's Inspector Walter Day and Sergeant Nevil Hammersmith bring their Murder Squad expertise to the Midlands, where a husband, wife, and son have disappeared; the couple's three other children, left unscathed, tell conflicting stories about what happened. An eyeball, discovered by a neighbor child, is the only clue. From the beginning, the bleak stage is set: a coal-mining town in winter with its slag heaps and gray snow on glumly shadowed streets that are lined with buildings sinking slowly into deserted mine shafts below. The town's denizens, taciturn and superstitious, believe Blackhampton is cursed, as the disappearances are followed by an epidemic of violent illness. The suspense grows exponentially while the detectives unearth clues to a bizarre and complicated crime, hoping their forensic specialist, when he arrives, will shed light on the baffling plague and the eyeball's owner. In contrast to Day's first case (The Yard, 2012), this second in the series moves at a brisk pace, with surprising plot twists right up to the very end. Grecian's riveting novel is an intelligent historical thriller similar to Jean Zimmerman's atmospheric psychological novel The Orphanmaster (2012), and as shocking as David Morrell's Murder as a Fine Art (2013).--Baker, Jen Copyright 2010 Booklist
---
Publishers Weekly
(c) Copyright PWxyz, LLC. All rights reserved

Set in 1890, Grecian's startling and spooky sequel to The Yard (2012) charts the efforts of Scotland Yard's Murder Squad to locate a missing married couple and their toddler in Britain's industrial Midlands. In the village of Blackhampton, Insp. Walter Day and his team discover more than one mystery: a girl finds an eyeball under a tree, scores of townspeople are stricken with an unexplained plague, and a hideous figure is lurking in the woods with a gun. Battling local terror and superstition, the squad must also contend with the town's physical collapse into the mines beneath it. Grecian's bold melding of horror with historical elements more than compensates for the dramatic overkill at the end. The novel's varied relationships balance pathos with humor and point up lessons on human responsibility-on what we owe to those with whom we're connected. The nascent bond between Day and Sgt. Nevil Hammersmith is especially appealing, hinting at many rich developments to come. Agent: Seth Fishman, the Gernert Company. (May) (c) Copyright PWxyz, LLC. All rights reserved.