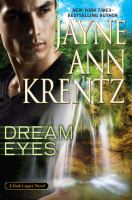 Publishers Weekly
(c) Copyright PWxyz, LLC. All rights reserved

Krentz returns to the world of her sexy psi investigators in a strong sequel to Copper Beach (2012). Judson Coppersmith's innate psychic gifts allow him to detect resonance from violent events and sense the emotions of a killer's mind. Gwen Frazier is a dream counselor who reads auras and translates the psychic resonance of violent deaths into visions of ghosts. When Gwen's mentor is murdered with a paranormal weapon, Gwen turns to the Coppersmiths for help, giving her a chance to explore her compelling lust for Judson. Krentz balances the protagonists' mutual attraction with their insecurities; Judson, who is fighting nightmares of a traumatic event, fears being viewed as a potential client, and Gwen worries her contagious dreams will ruin this relationship as it has others. The triple twists in the murder case make the plot convoluted and tedious, but a long denouement gives the characters a chance to build a real relationship after the threats of violence are gone. (Jan.) (c) Copyright PWxyz, LLC. All rights reserved.
---
Book list
From Booklist, Copyright © American Library Association. Used with permission.

*Starred Review* Gwen Frazier knows Evelyn Ballinger was murdered because Evelyn told Gwen so herself. Unfortunately, most police departments do not consider ghosts to be credible witnesses. In fact, the police chief of Wilby, Oregon, seems more convinced that Gwen has something to do with Evelyn's death, especially since Gwen was around several years earlier, when two members of a paranormal research study group organized by Evelyn were murdered. All of which means that if Gwen is going to bring Evelyn's killer to justice, she is going to need help from someone who specializes in paranormal investigative work. In other words, someone exactly like Judson Coppersmith. Writing with her signature sharp wit, Krentz (Copper Beach, 2012) flawlessly juggles a richly imaginative, paranormal-tinged plot fueled by an abundance of high-adrenaline danger and an engaging pair of protagonists whose combustible sexual chemistry threatens to permanently singe readers' fingers. The end result is another perfect fusion of suspense and romance from an author at the top of her game.--Charles, John Copyright 2010 Booklist
---
Library Journal
(c) Copyright Library Journals LLC, a wholly owned subsidiary of Media Source, Inc. No redistribution permitted.

Psychic counselor Gwen Frazier is drawn back to tiny Wilby, OR, by an email from her mentor, paranormal researcher Dr. Evelyn Ballinger. When Gwen arrives to find Evelyn dead on the office floor, she knows Evelyn didn't die naturally-the ghost in the mirror and her own uncanny ability to sense violent death tell her that much-but proving it is another matter. Suspecting a link between this murder and a series of deaths two years earlier and now a suspect herself, Gwen reaches out to psychic investigator Judson Coppersmith for help and gets love in the bargain. A lethally talented heroine haunted by the past; a powerful, enigmatic hero with issues of his own; and a complex, multifaceted plot that takes fans into a mind-bending dreamscape maze result in another winner from the consistently creative Krentz. VERDICT With walk-off-the-page characters, crackling sexual tension, swift pacing, and the author's trademark sassy humor, this wonderfully inventive high-stakes adventure will whet fans' appetites for more. Krentz (Copper Beach) lives in Seattle. (c) Copyright 2012. Library Journals LLC, a wholly owned subsidiary of Media Source, Inc. No redistribution permitted.