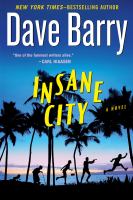 Library Journal
(c) Copyright Library Journals LLC, a wholly owned subsidiary of Media Source, Inc. No redistribution permitted.

Barry fans will not be surprised by the plot twists in his first adult novel in over a decade. Of course, any reader who enjoys Barry's humorous tours through southern Florida will not care one bit about the lack of surprise in this tale about a slacker groom in way over his head after he loses his custom-made wedding bands at a bachelor party gone awry. It is not exactly a spoiler alert to note that the marriage between impossibly gorgeous, successful, and spoiled Tina and Seth, whose marketing job consists of tweeting about the quality of feminine hygiene products from a variety of Twitter accounts, may not come off as planned. Verdict Barry does here what he does best-creates a set of memorable and outlandish characters and places them in ever-increasing chaotic and hilarious set-pieces as they move toward an inevitable conclusion. Some scenes and characters work better than others (hired muscle stuck behind a coupon clipper at CVS, the father of the bride's desire to join an elite secret organization known as the "group of six," a jewelry-stealing orangutan with a fondness for Cheez-its), and which will stick with readers the most depends upon their own experiences. But die-hard Barry fans will savor his usual lunacy. [See Prepub Alert, 7/30/12.]-Julie Elliott, Indiana Univ. Lib., South Bend (c) Copyright 2012. Library Journals LLC, a wholly owned subsidiary of Media Source, Inc. No redistribution permitted.
---
Publishers Weekly
(c) Copyright PWxyz, LLC. All rights reserved

In Barry's very funny new novel, the destination wedding of a slacker protagonist and his beautiful lawyer fiancee goes haywire. Though Seth Weinstein tries to live up to Tina Clark's expectations, he's immediately thwarted. He's lost his suitcase, wedding ring, and Groom Posse before arriving, drunk, at the Miami hotel where he's to be married. His newly found companion, the fourth runnerup in the Miss Hot Amateur Bod competition, enlists her friend, who keeps a python as a pet, to help find the ring. The stripper that Seth didn't ask for greets him in his suite demanding payment. Seth goes in search of an ATM and returns, the next morning, with a nearly drowned Haitian woman and her children. The stripper's tab keeps climbing, and her pimp is unlikely to make a deal. Barry adds to the mix Tina's disapproving, social-climbing, billionaire parents and Seth's clueless mom and dad, complete with medicinal marijuana and matching tracksuits. Seth must also contend with an amorous orangutan and his soon-to-be-wife's family's bodyguards, one of whom has a grudge. None of the mayhem gets the better of Barry, whose sly observations, well-delineated characters, and intricate plotting mesh perfectly, even as the story reaches a frenetic denouement aboard a pirate ship. Agent: Amy Berkower, Writers House. (Jan.) (c) Copyright PWxyz, LLC. All rights reserved.
---
Book list
From Booklist, Copyright © American Library Association. Used with permission.

Seth Weinstein, trudging along in an aimless career as a Twitter marketer, knows he is outmatched by his fiancee, Tina, who is rich, brilliant, and driven by serious causes. But amazingly, she has agreed to marry him. So they are off to Florida for their fabulous wedding, paid for by Tina's rich and powerful father, who doesn't quite approve of Seth. And Seth does not fail to disappoint as he and his Groom Posse become entangled with a stripper, her angry boyfriend, a desperate Haitian refugee and her children, and a cast of others in the hectic two days leading up to his wedding. When he should be preparing for the wedding, he's off on rescue missions and avoiding police in a car chase. Can Seth pull himself together in his grand misadventure of wildly competing desires and obligations to do the right thing and still make it to the altar? Pulitzer Prize-winning humorist Barry's latest offers a wild romp through south Florida.--Bush, Vanessa Copyright 2010 Booklist