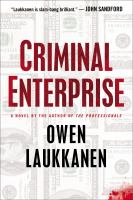 Publishers Weekly
(c) Copyright PWxyz, LLC. All rights reserved

In Laukkanen's fine sequel to his impressive debut, The Professionals (2012), laid-off Minneapolis accountant Carter Tomlin starts to rob banks once he realizes he can no longer pay his mortgage or support his beautiful wife and two kids. But his secret life as a bank robber is more addicting than he anticipates, and he's making money faster than ever before. As Tomlin's heists get more and more outrageous, FBI special agent Carla Windermere targets him as her prime suspect, despite the semblance of a perfect family life, a Victorian mansion, and a fancy car. When Windermere fails to persuade anyone that this embodiment of the American Dream could be leading a double life, she turns to her old partner, Minnesota state investigator Kirk Stevens. The hard-boiled narrative moves at a quick clip, and the tension between Windermere and Stevens adds some spice to the intrigue, though Tomlin's over-the-top actions may strike some readers as unconvincing. Author tour. Agent: Stacia Decker, Donald Maass Literary. (Mar.) (c) Copyright PWxyz, LLC. All rights reserved.
---
Book list
From Booklist, Copyright © American Library Association. Used with permission.

*Starred Review* After achieving law-enforcement fame in The Professionals (2012), Twin Cities FBI agent Carla Windermere and state BCA agent Kirk Stevens head in separate directions. She's stalking the adrenaline rush of big cases, and he's begun a career-sacrificing effort to avoid the cowboying in their last adventure. Now, a bank robber's violent rampage brings them back together. Carter Tomlin, a recently unemployed executive who's been leveraging debt to live in luxury, impulsively robs a bank. The heist nets little cash but a big payoff to his ego. His victims' fear provides a drug-like high, addictive after his emasculating job loss. Tomlin quickly acquires automatic weapons and a supporting team of thieves and begins leaving bodies in his wake. Windermere is sure Tomlin is the gang's mastermind but struggles to convince fellow agents that the seemingly wealthy suburbanite is a violent criminal. Stevens, who's personally acquainted with Tomlin, also doubts Windermere's theories, but clues are soon difficult to mask as coincidences, and he joins Windermere in the hunt. Laukkanen has clearly avoided the sophomore slump, deftly alternating taut narratives and building toward a grand climax that's completely organic to the story. Windermere, Stevens, and Tomlin are strikingly realistic characters sharing varying degrees of dissatisfaction with their lives, and readers will identify with their struggles to reconcile their own needs with their responsibilities to others.--Tran, Christine Copyright 2010 Booklist
---
Library Journal
(c) Copyright 2010. Library Journals LLC, a wholly owned subsidiary of Media Source, Inc. No redistribution permitted.

As in his debut novel The Professionals, which also featured the crime-stopper team of FBI Special Agent Carla Windermere and Minnesota State Investigator Kirk Stevens, Laukkanen tells the tale of a good man gone very, very bad. Newly laid-off accountant Carter Tomlin is staring at a large mortgage, a pretty (but expensive) wife, and two young kids. Desperation mounts proportionately with his unpaid bills, and so Tomlin goes where the money is and begins robbing banks. Stealing weapons from drug dealer Schultz, Tomlin brings into his circle of crime his secretary, Tricia Henderson, and her eponymously named boyfriend, Dragon Medic; the violence accelerates as Tomlin revels in the thrill of power over his victims. Windermere pursues Tomlin from one direction while Stevens befriends Tomlin, only to discover Tomlin has secrets. And Schultz is out for revenge. Verdict This is a terrific Great Recession thriller whose postmodern amorality grips from the beginning. While the criminals here are not as likable as Laukkanen's Arthur Pender gang from the first book, fans will not be disappointed. [See Prepub Alert, 9/17/12.]-Vicki Gregory, SIS, Univ. of South Florida, Tampa (c) Copyright 2013. Library Journals LLC, a wholly owned subsidiary of Media Source, Inc. No redistribution permitted.