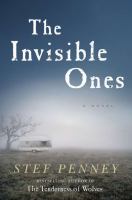 Library Journal
(c) Copyright Library Journals LLC, a wholly owned subsidiary of Media Source, Inc. No redistribution permitted.

Penney's Costa Award-winning debut, The Tenderness of Wolves, offers edge-of-civilization suspense in Canada's Northern Territory in the 1860s. Set in 1980s England, her new novel might seem like a departure, but it's not; here Penney probes the edge-of-civilization otherness of England's Romany (or Gypsies) while presenting a mystery rooted in the stranglehold of family. As the novel opens, Det. Ray Lovell gets a visit from Leon Wood, a Gypsy whose daughter, Rose, went missing years ago after marrying into the Janko family. Since Lovell has Gypsy roots, he's the only investigator Wood trusts. Trying to breach the silence surrounding Rose's disappearance, Lovell goes up against the entire Janko clan, including patriarch Tener; Tener's son Ivo, husband to Rose and father to Christo, who's languishing from an inherited disease that has killed off much of the family; Sandra, Ivo's cousin and the mother of JJ; and JJ himself, who's 14, smart, and the family's bridge to the outer world. Told alternately from Lovell's and JJ's perspectives, the story ends with a bone-rattling surprise that conveys how much the Jankos have endured. VERDICT Another stunner from Penney; highly recommended. [See Prepub Alert, 7/5/11.]-Barbara Hoffert, Library Journal (c) Copyright 2011. Library Journals LLC, a wholly owned subsidiary of Media Source, Inc. No redistribution permitted.
---
Publishers Weekly
(c) Copyright PWxyz, LLC. All rights reserved

In her mesmerizing sophomore outing, Penney wraps a riddle in a mystery inside an enigma that intrigues from the very first page. As the tale-set in the '80s-begins, private eye Ray Lovell wakes up in an English hospital with little memory and partial paralysis. While he recovers, other problems present. Lovell Price Investigations is broke and most of its cases involve adultery, about which Ray says: "These sorts of cases... can depress you if you let them." Then Ray, who is half-Gypsy himself, is offered a job by a fellow Gypsy, Leon Wood, who wants Ray to find his daughter, Rose, who he hasn't seen or spoken to in seven years, ever since she married Ivo Janko, another Gypsy (or traveler, as the British often call them). Why Leon wants to find Rose after so much time begins the mystery. He tells Ray it's because her mother has died and she should know, but Leon suspects foul play even though Rose's husband claims she ran off with a "gorjio" right after having a child, but Leon suspects foul play. Given his Gypsy heritage, Ray is able to insert himself into the itinerant lifestyle of that world-exactly the reason why Leon has hired him. But even with his knowledge of the traveling life, Ray is surprised by the stonewalling and half-truths he encounters while trying to learn the Janko family's secrets. The narrative slides seamlessly between Ray's point of view and that of J.J., Ivo's cousin's son, giving the reader a balanced perspective-and serving up two truly shocking twists at the story's end. Fast-paced, with characters who will live in full color inside the reader's head, Penney delivers an impressive follow-up to her debut bestseller, The Tenderness of Wolves. (Jan.) (c) Copyright PWxyz, LLC. All rights reserved.
---
Book list
From Booklist, Copyright © American Library Association. Used with permission.

Private investigator Ray Lovell wakes up in the hospital after an accident, and he slowly remembers the events that brought him there. Lovell, who is half Romany, is hired by Leon Wood to find his daughter, Rose, whom he hasn't heard from since her arranged marriage to Ivo Janko seven years ago. The story is seamlessly told by Ray in the hospital, Ray before his accident, and teen JJ Janko. The Janko family insists Rose ran away with a gorjio (non-Romany) after her son was born afflicted with the family illness, but Ray begins to doubt that Rose is still alive. If she is dead, which of the extended Janko family killed her? Ray solves the crime while he slowly recovers, comes to terms with the break-up of his marriage, and begins a new relationship with a member of the Janko family. The interesting life of gypsies in 1980s England frames a story with plot twists and interesting characters, but the resolution is rather a letdown.--O'Brien, Sue Copyright 2010 Booklist