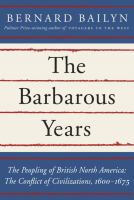 Publishers Weekly
(c) Copyright PWxyz, LLC. All rights reserved

This weighty book distills a lifetime of learning of one of our most authoritative historians of colonial America. Continuing his exploration of the demographic origins of the colonies (begun in The Peopling of British North America: An Introduction), Harvard professor emeritus Bailyn offers a history of the colonies built up of brilliant portraits of the people who interacted in these strange and fearsome lands. Much of it is the story of the costs, savagery, terrors, and conflicts that attended the establishment of European outposts in what became the U.S. This is not your school-book colonial history; there's no Anglo-American triumphalism in its pages. Rather, Bailyn describes "confusion, failure, violence, and the loss of civility" and the extraordinary heterogeneity of the white and Indian populations. Only a historian as penetrating and stylish of pen as Bailyn could convince you that there was something important to say about the few Finns settling in the colonies. And the squeamish should be forewarned: the true barbarousness of people, European as well as Indian, and white against white, is appalling and shows how thin the veneer of civilization often is and was in the colonies' early decades. An extraordinary work of profound seriousness, characteristic of its author. 25 illus., 12 maps. (Nov.) (c) Copyright PWxyz, LLC. All rights reserved.
---
Choice
Copyright American Library Association, used with permission.

This second volume in Bailyn's Peopling of British North America project (following the author's Voyagers to the West, CH, Apr'87) retains a concern for the experiences of the European settler population, but it emphasizes the bitterly contested nature of their struggle for order and stability in eastern North America during the first eight decades of the 17th century. The book provides a highly readable narrative synthesis of English, Dutch, and Swedish colonization initiatives, anchored by life narratives of individuals deeply engaged in these projects (many, though not all, familiar), and shorn of much of the triumphalism of prior treatments that read back known outcomes into the Colonial past and gentrify a history that Bailyn (Harvard) renders as one of unsparing brutality for all involved. While some may dispute the extent to which the author represents these "barbarous years" as resulting in the virtual destruction of indigenous cultures in "coastal" North America, his prose immerses readers in an unpredictable, contentious, insecure, and ultimately highly contingent settler world--one engaged in near-constant struggle to cope with the new realities forged by contact with North America's peoples and environments. Summing Up: Highly recommended. All levels/libraries. J. W. Parmenter Cornell University
---
Library Journal
(c) Copyright 2010. Library Journals LLC, a wholly owned subsidiary of Media Source, Inc. No redistribution permitted.

Bancroft and Pulitzer Prize-winning historian Bailyn (Adams University Professor Emeritus, Harvard; To Begin the World Anew) returns to the familiar territory of Colonial Atlantic history in an effort to transform a historiography that has promoted established folkways and orthodox regional identities (as seen, e.g., in David Hacket Fischer's studies). Beginning with the "spiritual, hyperactive, and crowded" world of Native Americans before contact with the English, Bailyn's regional narratives move into a demographic study of the struggle for survival in the Chesapeake; the tumultuous, multicultural environs of Dutch New Amsterdam; and finally to the closed, utopian communities of New England in search of religious perfectionism. Bailyn's colonists are no genteel aristocrats forging distinctive identities but a heterogeneous demographic mix, inhabiting a "barbarous" world in flux and faced with a future filled with contingency. While some of Bailyn's superbly told tales, such as the founding of Jamestown and the struggle for religious orthodoxy in Massachusetts, are fairly well known, a multitude of other parts of his narrative will come as a shock to many readers. VERDICT Drawing on decades of sound, dynamic research, the author has provided scholars and general readers alike with an insightful and engaging account of Colonial America that signals a reset on Colonial studies, the culmination of his work. An important book.-Brian Odom, Pelham P.L., AL (c) Copyright 2012. Library Journals LLC, a wholly owned subsidiary of Media Source, Inc. No redistribution permitted.
---
Book list
From Booklist, Copyright © American Library Association. Used with permission.

Surveying the founding British settlements of eastern North America, Bailyn, whose laurels include the Pulitzer and Bancroft prizes, embeds the stories of Virginia, Maryland, New York, and Massachusetts in details of the transatlantic demographic movements in play. Uprooting oneself required powerful motivations that Bailyn extracts from the emigrants' social origins in their home countries of England, the Netherlands, and Sweden. Bailyn shows news of the vanguards' fortunes being sent back to Europe to their sponsors, whose particular responses of raising funds, recruiting reinforcements, and propagating the attractions of America as commercial opportunity, escape from social stratification, or religious refuge generate Bailyn's narrative momentum through the first several generations of colonization. With such conceptual themes presiding over his presentation, Bailyn graphically emphasizes the settlement process as one of savage brutality, featuring common contempt for human life aggravated, to be sure, by primitive conditions and appalling death rates but epitomized in continual warfare with Indians, remorselessly tending toward their elimination. In Bailyn's perceptive and erudite hands, the original British, Dutch, and Swedish ventures assume as wild and variegated guises as did the forceful individuals who embarked on them.--Taylor, Gilbert Copyright 2010 Booklist