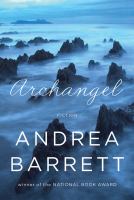 Library Journal
(c) Copyright Library Journals LLC, a wholly owned subsidiary of Media Source, Inc. No redistribution permitted.

Barrett, winner of the National Book Award for her story collection Ship Fever, has a remarkable ability to capture the essence of the natural world, as if describing a perfect snowflake. Her newest offering of interconnected stories pulls together (by happenstance) earnest, intelligent, and fallible characters, and their interactions are life-altering. "The Investigators" tells the story of a young man living in 1908 who discovers a new world of scientific inquiry. Set in 1873, "The Island" introduces a young woman attending a seminar at a primitive camp off of Cape Cod, MA, who slowly comes to understand the shattering implications of Darwin's theories. In the final tale, "Archangel," the year is 1919, and American medics yearn for home but are stranded in northern Russia at the end of the Great War. As scientific discoveries progress, human emotions move round and round. VERDICT Readers familiar with Barrett's work will embrace this new volume; those who have yet to discover her intriguing style will find much to consider. A delight for informed readers of challenging literary fiction. [See Prepub Alert, 2/4/13.]-Susanne Wells, Indianapolis (c) Copyright 2013. Library Journals LLC, a wholly owned subsidiary of Media Source, Inc. No redistribution permitted.
---
Book list
From Booklist, Copyright © American Library Association. Used with permission.

*Starred Review* National Book Award winner Barrett (The Air We Breathe, 2007) returns to the short story in her first collection since Servants of the Map (2002), drawing on her fascination with science, the wellspring for her discerning, imaginative, and tender fiction. In the dazzling opening story, young Constantine is liberated from his troubled Detroit home to spend the summer of 1908 helping his dynamic uncle with his experimental farm in a New York State village of exuberant investigators busy building and flying an airplane that wins a Scientific American trophy. In the book's staggering finale, Constantine reappears as a wounded soldier in 1919 stationed in the remote Russian town of Archangel. In between, Barrett incisively portrays women intent on breaking into the male-dominated scientific realm, including intrepid teacher Henrietta Atkins, two science writers, and one of the first X-ray technicians. Reveling in technical innovations and tectonic shifts in ideas and perceptions, Barrett dramatizes the impassioned conflicts engendered by the discoveries of Mendel, Darwin, and Einstein along with the toxic politics of science while celebrating the sharing of knowledge. Most movingly, she considers the subtle ways that, as one character expresses it, science was influenced by feeling. Barrett's consummate historical stories of family, ambition, science, and war are intellectually stimulating, lushly emotional, and altogether pleasurable.--Seaman, Donna Copyright 2010 Booklist
---
Publishers Weekly
(c) Copyright PWxyz, LLC. All rights reserved

Barrett, whose novel Ship Fever won the 1996 National Book Award, dwells on the intersections between science (her interests include genetics, astronomy, and zoology) and ethics (love, purpose, solace). Her training in biology and her meticulous research allow Barrett to speak of facts with authority, but in this powerful collection of five long stories, the facts come through the eyes of lost, lonely, elusive "investigators." In "The Ether of Space," set in 1920, astronomer Phoebe Wells struggles with the implications of Einstein's theories; in "The Island," set in 1873, young biologist Henrietta Atkins, initially worshipful of a creationist professor, succumbs to Darwinism. As is typical of Barrett's work, characters overlap. A 12-year-old boy catching his first sight of "aeroplanes" in "The Investigators," set in 1908, is encountered again as a WWI soldier in the excellent title story, where he sees planes bombing his camp. At times, Barrett's exercises in defamiliarization falter, leaving us with a barrage of historic-scientific details; at others, her ruminative observers remain too elusive to be believed, with "loneliness" and "enigma" crossing into tropes. But these few missteps don't counter the overall power of the book; there is indeed a sense of expansion as one travels onward in Barrett's world, and pleasure in watching it fill out. Agent: Emily Forland, Brandt & Hochman. (Aug.) (c) Copyright PWxyz, LLC. All rights reserved.