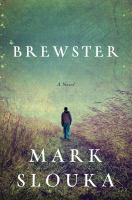 Publishers Weekly
(c) Copyright PWxyz, LLC. All rights reserved

A simmering rage coupled with world-weary angst grip the four teenagers growing up as friends in Slouka's (Lost Lake) hardscrabble novel, set in the small blue-collar town of Brewster, N.Y., where the author grew up. Jon Mosher-once a scholarship-winning high school track star, now a wistful, glum adult-narrates the group's tragic experiences during the winter of 1968. Feeling alienated from his community and his parents, German-Jewish emigres Sam and Vera, Jon first befriends the "erratic" Ray Cappiciano, who always looks banged up, supposedly from semipro middleweight boxing matches in out-of-town venues like the Bronx. The third friend, Frank Krapinski, is a javelin thrower and devout Christian. Rounding out the quartet is attractive Karen Dorsey, who rejects Jon's romantic interest to date the edgier Ray. Ray's father, a disturbed, sadistic ex-cop and WWII vet who collects Nazi body parts, supplies an undercurrent of violence that haunts the four teenagers' lives before boiling over at the surprising climax. Slouka's laconic dialogue resonates with regional authenticity, his late-1960s pop culture references ring true, and the stripped-down prose style in his masterful coming-of-age novel recalls the likes of Tobias Wolff and Raymond Carver. Agent: Bill Clegg, WME Entertainment. (Aug.) (c) Copyright PWxyz, LLC. All rights reserved.
---
Book list
From Booklist, Copyright © American Library Association. Used with permission.

*Starred Review* Slouka (The Visible World, 2007) brings a Richard Russo-like compassion and his own powerfully stripped-down prose to this poignant coming-of-age story set in the small blue-collar town of Brewster, New York, in the year 1968. Jon Mosher has always felt like an outsider because of his parents' roots as German-Jewish emigres and the accidental death of his older brother, which has broken his parents' spirit. He channels his anger into running track with his high-school team and eases his isolation through his friendships with the hulking Frank Krapinski, a devout Christian and talented athlete; volatile Ray Cappiciano, who is forever getting banged up in fistfights; and beautiful, forthright Karen Dorsey, who soon starts dating bad-boy Ray. Always looming in the background is the specter of Ray's alcoholic father, a sadistic WWII veteran possessed of a raging temper. What Slouka captures so well here is the burning desire of the four teens to leave their hardscrabble town behind and the restricted circumstances that seem to make tragedy an inevitable outcome. What Slouka also draws, with unerring accuracy, is the primacy of friendship and loyalty among teens who feel they are powerless. Slouka gives them a voice here, one filled with equal parts humor and pain.--Wilkinson, Joanne Copyright 2010 Booklist
---
Library Journal
(c) Copyright Library Journals LLC, a wholly owned subsidiary of Media Source, Inc. No redistribution permitted.

The setup is familiar: bright Jewish track star Jon is befriended by long-coat, wrong-side-of-the-tracks loner Ray as they both fall for smart, empathetic beauty Karen, but she loves only one of them (guess which?). What separates Slouka's coming-of-age story from most others are dead-on characters, the small-town setting in downstate New York, and the 1968-71 time frame. Although the characters must struggle to articulate their thoughts and feelings, they succeed despite themselves, and the sensory images (e.g., the smell of burning leaves, the chill of ice fishing) are truly evocative. There are puzzles, often but not always solved; for instance, Ray was believed to be into bare-knuckles-for-pay fighting, but the truth is something altogether different. The consequences for each character are both surprising and inevitable, and the numerous allusions (e.g., John Carlos, Buffalo Springfield, Marcuse, Wilfrid Owen, Let's Make a Deal, Curtis LeMay, Cool Hand Luke, Country Joe and the Fish) will resonate with many readers. In a back-of-book interview, Slouka (God's Fool) likens this novel to "an adult version of...The Outsiders." VERDICT He's not far off. For literary fiction fans who want to exchange a few hours for a valuable look back at the not-all-halcyon Sixties.-Robert E. Brown, Oswego, NY (c) Copyright 2013. Library Journals LLC, a wholly owned subsidiary of Media Source, Inc. No redistribution permitted.