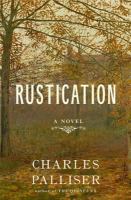 Publishers Weekly
(c) Copyright PWxyz, LLC. All rights reserved

Palliser juxtaposes Gothic melodrama, a metafictional frame, a vividly unreliable narrator, and a roiling mix of mysteries in this provocative Victorian thriller, his first novel since 1999's The Unburied. Earthier in milieu and more rollicking in tone than The Unburied or his classic, The Quincunx, Rustication showcases the author's originality, boldness, and range. Expelled from Cambridge in disgrace in 1863, 17-year-old Richard Shenstone returns to remote Thurchester and a family hiding in its own secrets. His father has died, tainted by scandal no one will explain; his mother and sister, now penniless, cling to a decaying mansion. Along with lubricious fantasies and opium highs, Richard's journals chronicle their puzzling behavior. Who is the "Willy" his mother briefly mistakes him for? What is his sister's real relationship with her wealthy former suitor Davenant Burgoyne, now engaged to another woman? Anonymous letters full of crude sexual taunts and a rash of animal mutilations soon begin to plague the district. Evidence implicates Richard in these crimes, and in Burgoyne's subsequent murder and mutilation. As he discovers the truth, Richard matures from careless rake into a man facing a moral dilemma. Though its graphic passages may be disconcerting to some readers, the novel wraps a genuinely memorable reflection on family and human fallibility in a wickedly entertaining, intricately plotted read. (Nov.) (c) Copyright PWxyz, LLC. All rights reserved.
---
Library Journal
(c) Copyright Library Journals LLC, a wholly owned subsidiary of Media Source, Inc. No redistribution permitted.

Seventeen-year-old Richard Shenstone finds that his mother and sister are far from happy to see him when he unexpectedly returns home from Cambridge, and his suspicions that the two are hiding something deepen as he meets their equally secretive neighbors. Meanwhile, an unknown culprit terrorizes the town by brutalizing animals and mailing anonymous letters detailing residents' sexual misconduct. Richard records his investigations in carefully kept diary entries, but his own opium addiction and fondness for nighttime wandering will keep readers guessing about his possible role in the town's misfortunes. VERDICT Palliser, best known for his Dickensian epic The Quincunx, returns to the setting of his earlier suspense novel The Unburied for another gothic tale that will appeal to fans of John Harwood or Michael Cox. Palliser vividly captures the claustrophobic feeling of a small Victorian community being overwhelmed by anxiety and mistrust, and fans of twisty plots will enjoy guessing at the town's many secrets as they sift through the rumors and gossip offered up by a well-drawn cast of darkly quirky characters. [See Prepub Alert, 5/13/13.]-Mara Bandy, Champaign P.L., IL (c) Copyright 2013. Library Journals LLC, a wholly owned subsidiary of Media Source, Inc. No redistribution permitted.
---
Book list
From Booklist, Copyright © American Library Association. Used with permission.

Something wicked this way comes, and this time it is in the heart of a small town in mid-Victorian England. Sent down from Cambridge in disgrace, 17-year-old Richard Shenstone retreats to an ancient, crumbling house on the edge of a marshy bay occupied by his recently widowed mother and his enigmatically secretive sister. As he records, a series of confusing and increasingly terrifying happenings in his journal, the reader is initially left to wonder how much of the story is real and how much of it is fueled by Richard's opium-impaired imagination. Beginning with vicious rumors and lurid poison-pen letters and culminating in mayhem, mutilation, and murder, the escalating crimes ripple out, infecting an entire community of grotesques. Paranoia reigns supreme as the twists and turns keep multiplying in this gothic horror show adeptly spun by the author of The Quincunx.--Flanagan, Margaret Copyright 2010 Booklist