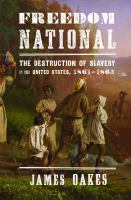 Publishers Weekly
(c) Copyright PWxyz, LLC. All rights reserved

Eliminating slavery proved harder "than anyone first imagined," writes Oakes (The Radical and the Republican), professor of history at the CUNY Graduate Center, in this richly satisfying account. Ironically, the Constitution was "one of the most formidable obstacles to abolition-"enlightenment economics taught that slavery would eventually disappear, so the Founding Fathers felt little was lost in placating southern states by writing protections into the document. As deferent to the Constitution as their opponents, Republicans never supported abolishing slavery where it was legal, and though Lincoln maintained "that he would take no stance that went against his party," Southern states saw the election of 1860 as a harbinger of abolition. It was, however, a slow process: by war's end a mere 15% of four million slaves were free. Congressman James Wilson remarked, "slavery was a `condemned' but `unexecuted culprit.' " Only with the 1865 ratification of the 13th Amendment were all slaves freed, "everywhere, for all future time." Both a refreshing take on a moment in history and a primer on the political process, Oakes's study is thoroughly absorbing. Maps & illus. (Dec.) (c) Copyright PWxyz, LLC. All rights reserved.
---
Book list
From Booklist, Copyright © American Library Association. Used with permission.

Long before the Civil War, the age of emancipation was marked by antislavery movements throughout the Caribbean empire and the British ban on slavery. Historian Oakes details how the U.S., despite its heritage of freedom, was much slower to adopt a national ideal of freedom, drudging through a long, painful, and very complicated process that did not necessarily have to lead to the Thirteenth Amendment. The greatest obstacle to antislavery efforts was the constitutional protection of slavery in states where it existed. Fervent debates about how to end slavery included directives to isolate the South, offer incentives and compensation, or exercise the military option that meant immediate emancipation and no compensation. Oakes examines the history of the antislavery movement, slave resistance, Lincoln's political machinations, the Republican Party, the Civil War, and the revisionist history of the intent of the political players in the 1800s as seen through more modern perspectives. This is an absorbing look at the complex process of emancipation and the forces behind the incentives and threats and the war that eventually led to the end of slavery in the U.S.--Bush, Vanessa Copyright 2010 Booklist
---
Choice
Copyright American Library Association, used with permission.

Oakes (Graduate Center, CUNY) has written the definitive study of the Republican Party and emancipation during the Civil War. Taking issue with scholarship that posits the reluctance of many Republicans (including Abraham Lincoln) to push for complete and effective emancipation--thus rendering freedom the exclusive province of African Americans and "radicals"--Oakes instead emphasizes the essential unity of the Republicans on slavery and emancipation. Moderate and radical Republicans were committed to emancipation as a war aim from 1861 forward; their differences were over timing and tone rather than substance. The only Northerners trying to avoid slavery and emancipation were Democrats, who never effectively exercised national power during the war. Analyzing emancipation as it progressed from a military measure (confiscation) to an explicitly avowed war aim (the preliminary Emancipation Proclamation) to final constitutional implementation (the 13th Amendment), Oakes crafts a detailed, vigorously argued, convincing narrative of how emancipation became a settled (if not uncontested) fact. It is difficult to do justice to Oakes's masterful study in a brief review; wide research, exceptional prose, and deft argumentation combine in this important work. Required reading for any student of the Civil War era. Summing Up: Essential. All readers/libraries. K. M. Gannon Grand View University
---
Library Journal
(c) Copyright Library Journals LLC, a wholly owned subsidiary of Media Source, Inc. No redistribution permitted.

Lincoln Prize-winner Oakes argues that the Civil War was fought not to preserve the Union (the standard line) but primarily to end slavery; he also chronicles the immediate consequences of emancipation. See David Von Drehle's just-published Rise to Greatness: Abraham Lincoln and America's Most Perilous Year for a different approach to the subject. (c) Copyright 2012. Library Journals LLC, a wholly owned subsidiary of Media Source, Inc. No redistribution permitted.
---
Library Journal
(c) Copyright Library Journals LLC, a wholly owned subsidiary of Media Source, Inc. No redistribution permitted.

Lincoln Prize winner Oakes (history, Graduate Ctr., CUNY; The Radical and the Republican) turns inside out recent scholarship on the antislavery origins and interests of the Republican Party by rediscovering the Republicans' emphasis on the Constitution as a document premised on creating a republic moving toward national freedom and away from slavery. With close readings of the Constitution and antebellum debates on the law(s) of slavery and the extent of federal power, Oakes recasts the Republicans as consistent in their antislavery principles, which regarded slavery as conditional but freedom as essential. In their legal and constitutional arguments against slavery, abolitionists and Republicans insisted that they must strangle the institution by confining it and might kill it outright by "military emancipation" if rebellion occurred. He tracks the dynamics whereby Republicans used such logic to weaken slavery during the war, entice slaves to leave their masters for Union lines, armed slaves, and recognized such free persons as citizens never to be enslaved again. His exegesis of the Emancipation Proclamation as a revolutionary document in its intent and impact will surprise many readers who have dismissed it as ineffectual or symbolic at best. VERDICT Brilliant in analysis and compelling in argument, this is now the book to read on how slavery died.-Randall M. Miller, St. Joseph's Univ., Philadelphia (c) Copyright 2012. Library Journals LLC, a wholly owned subsidiary of Media Source, Inc. No redistribution permitted.