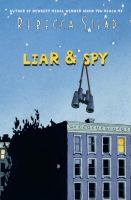 School Library Journal
(c) Copyright Library Journals LLC, a wholly owned subsidiary of Media Source, Inc. No redistribution permitted.

Gr 5-8-Georges's life is turned upside down when his father loses his job, forcing his mother to take on extra nursing shifts and prompting the family to move from their house into an unfamiliar Brooklyn apartment. At school, Georges is a bit of an outcast, having been abandoned by his one and only friend and often the subject of bullies' taunts. Then he sees a sign advertising a Spy Club and meets Safer, a homeschooled loner who lives in his building, and Safer's warm, welcoming, and quirky family offers him respite from the stress at home. Together the boys track a mysterious building resident who Safer is sure is hiding a sinister secret. As the investigation progresses, Georges grows increasingly uncomfortable with Safer's actions. Stead has written a lovely, quiet, and layered novel that explores friendship in all its facets. She particularly examines truths, secrets, deceptions, and imagination and whether these can destroy or ultimately strengthen a friendship. The ending twists readers' entire perception of the events and creates a brilliant conclusion to an insightful novel.-Naphtali L. Faris, Missouri State Library, Jefferson City (c) Copyright 2012. Library Journals LLC, a wholly owned subsidiary of Media Source, Inc. No redistribution permitted.
---
Publishers Weekly
(c) Copyright PWxyz, LLC. All rights reserved

Seventh grade is not going well for Georges, the only child of an out-of-work Brooklyn architect and a nurse who named him after her favorite painter, pointillist Georges Seurat. Although Georges's mother has taken on double shifts to bring in extra income, the family has had to sell their house and move into an apartment. At school, former best friend Jason, who has started dressing like the skateboarder he isn't, now stands idly by while bullies harass Georges. Newbery Medalist Stead (When You Reach Me) expertly balances Georges's blue period with the introduction of the new neighbors: amateur spy Safer, and his younger sister, Candy, whose parents (in one of many hilarious details) let the kids name themselves. As homeschooled siblings, they offer refreshing perspectives on the ridiculousness of what goes on at Georges's school, including a forthcoming science unit on taste buds that the kids believe forecasts one's destiny. Safer recruits Georges to investigate and observe--using the lobbycam to track a mysterious tenant and binoculars to monitor a nest of wild green parrots--but the biggest secrets are the ones these two sensitive boys have buried in their hearts. Stead has a talent for introducing curriculum-ready topics in the most accessible ways imaginable, e.g., Seurat's painting methods become a persuasive metaphor for what Georges is going through and how he can survive it. Chock-full of fascinating characters and intelligent questions, this is as close to perfect as middle-grade novels come. Ages 9-12. Agent: Faye Bender, Faye Bender Literary Agency. (Aug.) (c) Copyright PWxyz, LLC. All rights reserved.
---
Book list
From Booklist, Copyright © American Library Association. Used with permission.

Stead follows her Newbery Medal winner, When You Reach Me (2009), with another story that deals with reality and perception. Seventh-grader Georges (like Seurat) is living in a new apartment in Brooklyn since the loss of his father's job necessitated selling their house. His mother still has her job as a nurse, but now she must work double shifts. He goes to the same school, though, which is not necessarily a good thing, because he is relegated to the outsiders' table. Having a neighbor his age, the loosely homeschooled Safer, offers some new possibilities for Georges, especially since Safer considers himself a spy and is happy to lure Georges into his games. There are two mysteries here: one concerns Georges' mother, and the other the truth about a shady building tenant, who Safer maintains could be a murderer. Many readers will guess at least part of the truth about the first, despite the sometimes-labored effort put into concealing it. The revelation about the second will be more of a surprise and offers insight into the nature of friendship. Fresh and funny, this will speak to many children trying to find their own way. HIGH-DEMAND BACKSTORY: The buzz generated by Stead's multiaward winner, When You Reach Me, ensures that this will have a built-in audience, and large-scale promotional plans won't hurt either.--Cooper, Ilene Copyright 2010 Booklist