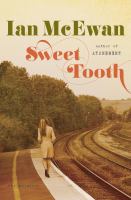 Publishers Weekly
(c) Copyright PWxyz, LLC. All rights reserved

McEwan goes for laughs in this cold war spoof in which Serena Frome, one time math whiz, struggles through Cambridge and graduates in 1972 with an embarrassing third. For reasons never satisfactorily explained, a professor and former MI5 operative recruits her as a spy. Serena's soon in love, not for the last time in the story, no matter that he's 54, long married and sickly, or that she's 21, gorgeous, and in a relationship. She's a voracious reader, and her familiarity with contemporary fiction earns her an assignment to persuade a writer with anti-Soviet leanings to abandon academia and write full-time, supported by funding whose source he can never know. Espionage fans won't find much that's credible, and fans of political farce might be surprised by a narrative less focused on lampooning MI5 than on mocking (mostly female) readers. Given the nonstop wisecracks, the book might be most satisfying if read as sheer camp. A twist confirms that the misogyny isn't to be taken seriously, but Serena's intellectual inferiority is a joke that takes too long to reach its punch line. McEwan devotees may hope that in his next novel he returns to characterizations deeper than the paper they're printed on. Agent: The Georges Borchardt Literary Agency. (Nov.) (c) Copyright PWxyz, LLC. All rights reserved.
---
Book list
From Booklist, Copyright © American Library Association. Used with permission.

*Starred Review* McEwan's attentive audience can never anticipate what his next novel will be about, but because his fans know that any McEwan book will offer a wildly creative plot carried by complex characters and an elegant yet ironically muted writing style, they are willing, whenever a new novel appears, to go with the author wherever historically and psychologically he leads. This time that place is the spy world of British intelligence in the early 1970s. (Remember, although WWII is over, the Cold War is definitely not.) With grace, assurance, and credibility, McEwan assumes a female persona in this first-person remembrance, narrated from the vantage of 40 years later. Serena Frome is a smart, attractive, Cambridge-educated young woman who is recruited by her older lover for the MI5 intelligence agency. She is slotted into a secret program called Sweet Tooth, designed to cultivate writers likely to produce novels ideologically in tune with the government. Spydom is, of course, fraught with betrayal, and Serena is not immune to that common pitfall. McEwan readers can rest assured that, in common with its predecessors, this novel has a greatly compelling story line braced by the author's formidable wisdom about well, the world. HIGH-DEMAND BACKSTORY: Promotion strategies listed for McEwan's new book are expectedly wide-ranging, including, of course, national media appearances for him.--Hooper, Brad Copyright 2010 Booklist
---
Library Journal
(c) Copyright Library Journals LLC, a wholly owned subsidiary of Media Source, Inc. No redistribution permitted.

How easily we are fooled, and how easily we fool ourselves. That's the sense we get when reading this latest from Booker Prize winner McEwan (Solar), set in the Cold War 1970s. Rather gorgeous Serena Frome ("rhymes with plume") attends Cambridge to study mathematics, though she'd rather be reading, because she's persuaded that women must prove themselves adept with numbers. She scrapes by with a third, meanwhile having an affair with a married history professor who secretly grooms her for the intelligence service and then dumps her. Drafted by MI5, she's on the lowest rung when she's asked to participate in a mission, codenamed Sweet Tooth, aimed at secretly funding writers whose views align with the government. Serena's target is Tom Haley, with whom she foolishly falls in love. Then he writes the grimmest, darkest postapocalyptic novel imaginable. VERDICT The writing is creamy smooth, the ultimate trap-within-a-trap pure gold, and the whole absolutely engrossing, but poor Serena. She's such a doof, and she's a bit condensed too (by both characters and author), which leaves a bitter taste no matter how good the novel. [See Prepub Alert, 5/4/12.]-Barbara Hoffert, Library Journal (c) Copyright 2012. Library Journals LLC, a wholly owned subsidiary of Media Source, Inc. No redistribution permitted.