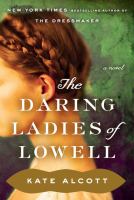 Publishers Weekly
(c) Copyright PWxyz, LLC. All rights reserved

Alcott's second novel, following The Dressmaker, focuses on the mill girls of Lowell, Mass., unlikely workhorses who powered the country's early textile industry. It's 1832 and Alice Barrow has fled her family's New Hampshire farm seeking money and freedom. Though the dormitories are Spartan and the hours long (13 per day), the job gives her access to the mill's literary magazine, The Lowell Offering; speakers at the Lyceum, including President Andrew Jackson; and Saturday afternoons in town. Alice quickly befriends Lovey Cornell, who at 23 is the mill's chatty and sassy elder stateswoman. However, she also experiences the downsides of working in the mill, including polluted air and dangerous machinery. By speaking up in front of Jackson during the president's visit, Alice draws mill owner Hiram Fiske's ire, but also catches the eye of his son, Samuel. Soon afterward, Lovey is found hanged in an apparent suicide and the tension between workers and management begins to boil over, threatening Alice's prospects for a relationship with Samuel. Alcott draws on a real-life trial to lend authenticity to her romantic story. For readers looking to expand their knowledge of feminist history, the book will illuminate and satisfy. Agent: Esther Newberg, ICM. (Feb.) (c) Copyright PWxyz, LLC. All rights reserved.
---
Book list
From Booklist, Copyright © American Library Association. Used with permission.

Alcott (The Dressmaker, 2012) chooses another working-class girl as the heroine of her second historical novel. To Alice Barrow, a job at a textile mill in 1832 Lowell, Massachusetts, represents both an escape from her rural roots and a chance to forge an independent future. Although the hours are long and the work arduous, she enjoys the companionship of the mill girls and the opportunity to take advantage of the intellectual subculture of Lowell, including the mill's literary magazine and lectures at the Lyceum. Alice's common sense and intelligence attract the attention of Samuel Fiske, the mill owner's son, who invites her to act as an emissary for her coworkers at a meeting with his family. However, when Alice's best friend is found hanged, her burgeoning relationship with Samuel is threatened as his family withholds crucial evidence during the investigation. Set against an authentically detailed mill-town backdrop, this novel interweaves the ­industrial ­revolution, feminism, and workers' rights into an engrossing narrative with a love story at its core.--Flanagan, Margaret Copyright 2010 Booklist
---
Library Journal
(c) Copyright Library Journals LLC, a wholly owned subsidiary of Media Source, Inc. No redistribution permitted.

Though the pay is low and the hours are long, farm girl Alice Barrow relishes the independence she gains when she takes on a job at a cotton mill in Lowell, MA. In the 1830s, the opportunity to earn their own money working in mills is one of the few freedoms allowed to women, and while that is a draw for Alice, she values the friendships she forms-especially with brash Lovey Cornell-even more. Unafraid to speak up about the unsafe equipment and unhealthy environment with which workers must contend, Alice is soon cast as the voice of the other mill workers, and she catches the admiring eye of the heir to the mill, Samuel Fiske. But when Lovey is found murdered, Alice must decide between standing with the other mill workers or siding with the Fiske family. VERDICT As she did with her debut, The Dressmaker, Alcott draws from dramatic events indelibly etched in history and offers a fresh perspective. The resulting tale is reminiscent of the British television drama series North & South, in that it also explores issues of class and gender and is set primarily on a cotton mill during the same general time period. And like the series, Alcott's work will attract historical romance fans who will be entertained by the antics of the daring ladies who leave everything they know and embrace less-than-ideal conditions to gain their freedom. [See Prepub Alert, 8/12/13.]--Natasha Grant, New York (c) Copyright 2013. Library Journals LLC, a wholly owned subsidiary of Media Source, Inc. No redistribution permitted.