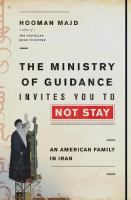 Book list
From Booklist, Copyright © American Library Association. Used with permission.

Born in Tehran to an upper-class diplomat family that fled after the overthrow of the shah, Brooklyn journalist Majd has been to Iran many times and written extensively on contemporary politics there for news journals and TV. Then, in 2011, at age 50, he returned to Tehran for a year with his young American wife and their baby son. Never simplistic, his in-depth, insider-outsider perspectives make for a gripping narrative about what is going on, personally and politically, in that troubled country. A relative of former president Mohammad Khatami, Majd has many connections in Iran, even as some regard him as an American spy. His wife must wear a hijab, even to swim. They fast at Ramadan. Everyone talks politics; he has access to Iranian officialdom, and he shows close up how Iran's unique path of modernity fused with religion has very mixed results. In spite of it all, he reports, the literacy rate has been raised to nearly 90 percent. His on-the-spot reporting will engage readers and spark debate beyond the usual headline news of the theocracy and the fear in the Western world of potential Iranian nuclear weapons.--Rochman, Hazel Copyright 2010 Booklist
---
Library Journal
(c) Copyright Library Journals LLC, a wholly owned subsidiary of Media Source, Inc. No redistribution permitted.

Freelance journalist Majd (The Ayatollah Begs To Differ: The Paradox of Modern Iran) identifies himself as an Iranian although, up until 2011, he had not lived in Iran since his family fled when he was a child. Then he decided to spend a year in Iran with his American wife, who had never been there, and their eight-month old son. Despite the economic sanctions against Iran, everything-alcohol, satellite feeds of Western media, VPNs for Internet access bypassing government restrictions, bootleg DVDs-was readily available there through parallel markets. Majd relates how they found an apartment, outlets from which to buy organic products, a secure Internet connection, and a DVD boot-legger. Readers will note that outward appearances have to be kept up in Iranian culture regardless of one's convictions. Majd and his wife learned to dress as the locals did and to endure the Ramadan fast. He relates their experience of the effects of political events abroad (e.g., the Arab Spring) and at home (e.g., the capture of locals branded as "spies"), but his focus is not on the political. Majd himself had to field inquiries from various surveillance groups on his intent and activities. VERDICT A personal account of one family's experience in Iran that helps readers to gain a flavor of life there that will balance with perceptions of Iran from news coverage. Recommended for those interested in contemporary Iranian society and culture.-Muhammed Hassanali, Shaker Heights, OH (c) Copyright 2013. Library Journals LLC, a wholly owned subsidiary of Media Source, Inc. No redistribution permitted.
---
Publishers Weekly
(c) Copyright PWxyz, LLC. All rights reserved

Having grown up mostly in America as the son of an Iranian diplomat, Brooklyn, N.Y.-based journalist and author Majd (The Ayatollah Begs to Differ) took his Wisconsin-born wife and young son for an experimental year's stay in Tehran in order to immerse himself in the strange, yet familiar, culture of Iran. Not such an easy task for the Westernized couple, considering that the country is still firmly in the grips of a 30-year-old-plus Islamist dictatorship that polices public behavior and dress, embraces pervasive censorship and surveillance, and is under severe sanctions from the U.S. and the U.N. Moreover, since Majd had been called in for questioning by the Ministry of Culture and Islamic Guidance on a previous trip with NBC News and scolded for the things he had written about President Ahmadinejad, he resolved not to use the year in Tehran for journalism, but to make a smooth life for his demanding yoga-instructor wife, Karri, and toddler, Khash. Majd sought out a quiet apartment away from Tehran's traffic and sooty air, in a neighborhood where the family could actually push a stroller and find shops that offered organic foods, without attracting attention of the morality squad. Majd's account is useful and elucidating, rather than newsworthy or surprising. Attending parties both traditional and alcohol fueled; observing the resigned, yet loyal mores of the Iranians whose reformist Green Movement was crushed two years before; and recording a tale of a survivor of Evin prison, Majd manages to offer insightful glimpses of the complex Iranian character. (Nov.) (c) Copyright PWxyz, LLC. All rights reserved.