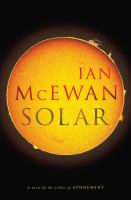 Book list
From Booklist, Copyright © American Library Association. Used with permission.

Customarily, McEwan's novels spring from a catastrophic incident in someone's life, either a calamity that causes physical distress or a psychological trespass that causes emotional instability. For instance, in Enduring Love (1998), a man plunges to his death from a balloon, and in the aftermath, one witness continues to menace another witness. On Chesil Beach (2007) centers on an emotionally devastating wedding night. In his new novel, McEwan outdoes himself in terms of catastrophic occurrences. The protagonist, physicist Michael Beard, won a Nobel Prize several years ago and has been resting on his laurels ever since. A serial cheater, he is now married to his fifth wife, who leads a totally separate life, indicating her complete disdain for his wandering eye. His lack of effort in applying himself to either career or fidelity only increases our dislike of him. Even he says of himself, No one loved him. An accidental death in which he was involved and which he covered up, a politically incorrect statement aired before a professional audience, and his usurpation of the research of a deceased colleague: readers are taxed to even care about these crises. This draggy novel stands in stark contrast to its many beautiful predecessors, but McEwan is regarded as a major contemporary British novelist, so expect demand on that basis.--Hooper, Brad Copyright 2010 Booklist
---
Publishers Weekly
Copyright © Reed Business Information, a division of Reed Elsevier Inc. All rights reserved.

Booker Prize-winner McEwan (On Chesil Beach; Atonement) once again deploys domestic strife to examine the currents of worldwide change. This time, McEwan shoots for the sun, with the promise of solar energy gradually legitimizing itself in the mind of Nobel Prize-winning physicist Michael Beard. While Bush v. Gore drags on across the Atlantic and Beard's fifth marriage dissolves in an adulterous haze, the waning laureate rides his reputation to a cushy position at a U.K. climate research center, where he is generally disdainful of his younger colleagues. Then, following an epiphany of sorts, Beard pins the accidental death of a rival scientist on his wife's lover and steals the other man's research. By 2009, Beard is in New Mexico, riding high on ill-gotten funding and patents and within sight of a curious redemption. Beard is a fascinatingly repulsive protagonist, but he can't sustain a novel broken up by fast-forwards (all of which require tedious backstories) and a stream of overwritten courtships. The scientific material is absorbing, but the interpersonal portions are much less so-troublesome, since McEwan seems to prefer the latter-making for an inconsistent novel that one finishes feeling unpleasantly glacial. (Mar.) Copyright 2010 Reed Business Information.
---
Book list
From Booklist, Copyright © American Library Association. Used with permission.

Customarily, McEwan's novels spring from a catastrophic incident in someone's life, either a calamity that causes physical distress or a psychological trespass that causes emotional instability. For instance, in Enduring Love (1998), a man plunges to his death from a balloon, and in the aftermath, one witness continues to menace another witness. On Chesil Beach (2007) centers on an emotionally devastating wedding night. In his new novel, McEwan outdoes himself in terms of catastrophic occurrences. The protagonist, physicist Michael Beard, won a Nobel Prize several years ago and has been resting on his laurels ever since. A serial cheater, he is now married to his fifth wife, who leads a totally separate life, indicating her complete disdain for his wandering eye. His lack of effort in applying himself to either career or fidelity only increases our dislike of him. Even he says of himself, No one loved him. An accidental death in which he was involved and which he covered up, a politically incorrect statement aired before a professional audience, and his usurpation of the research of a deceased colleague: readers are taxed to even care about these crises. This draggy novel stands in stark contrast to its many beautiful predecessors, but McEwan is regarded as a major contemporary British novelist, so expect demand on that basis.--Hooper, Brad Copyright 2010 Booklist
---
Library Journal
(c) Copyright Library Journals LLC, a wholly owned subsidiary of Media Source, Inc. No redistribution permitted.

Fans of McEwan (Atonement; Amsterdam) will find here his usual themes of regret, secrecy, and suffering. Nobel Laureate Michael Beard has little more to offer physics. His fifth wife begins an open affair with a handyman and then with Beard's self-proclaimed protege, Tom Aldous, who has been developing revolutionary plans for solar power. When Aldous accidentally dies in Beard's presence, Beard frames the handyman, who is convicted and imprisoned. Thus the real story begins. Beard is fired from his cushy post and, desperate for renewed success, steals Aldous's ideas. In the back of his mind lurks a secret guilt that causes further suffering evident in his ever-diminishing physical and psychological condition. The result, unfortunately, is a mild, incomplete thriller because -McEwan focuses on Beard's quotidian unhappiness, not on what could destroy him: that others know of Aldous's ideas, and the handyman knows of Beard's duplicity. Overall, this is dense with the minutiae of global warming and alternative energy, and the denouement, however pleasing, seems rather clumsy, given the 100-odd pages preceding it. Luckily, McEwan's attention to language remains. Verdict Fans of McEwan's other works will still want to see this, but others will find it only average. [See Prepub Alert, LJ 12/09.]-Stephen Morrow, Ohio Univ., Athens (c) Copyright 2010. Library Journals LLC, a wholly owned subsidiary of Media Source, Inc. No redistribution permitted.
---
Publishers Weekly
(c) Copyright PWxyz, LLC. All rights reserved

Booker Prize-winner McEwan (On Chesil Beach; Atonement) once again deploys domestic strife to examine the currents of worldwide change. This time, McEwan shoots for the sun, with the promise of solar energy gradually legitimizing itself in the mind of Nobel Prize-winning physicist Michael Beard. While Bush v. Gore drags on across the Atlantic and Beard's fifth marriage dissolves in an adulterous haze, the waning laureate rides his reputation to a cushy position at a U.K. climate research center, where he is generally disdainful of his younger colleagues. Then, following an epiphany of sorts, Beard pins the accidental death of a rival scientist on his wife's lover and steals the other man's research. By 2009, Beard is in New Mexico, riding high on ill-gotten funding and patents and within sight of a curious redemption. Beard is a fascinatingly repulsive protagonist, but he can't sustain a novel broken up by fast-forwards (all of which require tedious backstories) and a stream of overwritten courtships. The scientific material is absorbing, but the interpersonal portions are much less so-troublesome, since McEwan seems to prefer the latter-making for an inconsistent novel that one finishes feeling unpleasantly glacial. (Mar.) (c) Copyright PWxyz, LLC. All rights reserved