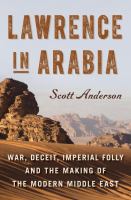 Library Journal
(c) Copyright Library Journals LLC, a wholly owned subsidiary of Media Source, Inc. No redistribution permitted.

Many readers are familiar with the heroic tale of T.E. Lawrence's desert campaigns with Arab tribes. Anderson (The Man Who Tried To Save the World), a journalist and author of both fiction and nonfiction, embeds Lawrence deeply in the complex environment of World War I diplomacy and policy throughout the Middle East. He skillfully describes British policy confusion reflected in the contradictory negotiations with French allies, the Arab forces, and representatives of the nascent Zionist movement, highlighting poor leadership and the huge losses of life and resources. Lawrence is shown as courageous and committed, one among several other young diplomatic adventurers-including the German archaeologist Curt Prufer, the American oil agent William Yale, and the Zionist agronomist and spy, Aaron Aaronsohn-pursuing conflicting national goals. The book makes clear the arrogance and self-serving actions of the British and French as they sought to replace Ottoman rule over the Arabs with their own imperial domination, generating decades of Arab resistance, political disorder, and economic stagnation in the region. VERDICT With strong and insightful writing, using T.E. Lawrence as a window onto the tragic history of World War I and its settlement in the Middle East, Anderson makes this complicated history both vivid and engaging. Highly recommended.--Elizabeth Hayford, formerly with Associated Coll. of the Midwest, Chicago (c) Copyright 2013. Library Journals LLC, a wholly owned subsidiary of Media Source, Inc. No redistribution permitted.
---
Book list
From Booklist, Copyright © American Library Association. Used with permission.

*Starred Review* To historians, the real T. E. Lawrence is as fascinating as the cinematic version in Lawrence of Arabia is to movie fans. The many reasons interlock and tighten author Anderson's narrative, yielding a work that can absorb scholarly and popular interest like. Start with Lawrence's WWI memoir, Seven Pillars of Wisdom (1922). A rare-book collectible, it inspired many of the scenes in David Lean's film and is also subject to cross-referencing interpretations of Lawrence's veracity. For lyrical though Lawrence could be about Arab leaders and desert landscapes, he could also be enigmatically opaque about the truth of his role in events. Accordingly, Anderson embeds Lawrence and Seven Pillars in the wider context of the Arab revolt against Turkey, and that context is the British, French, German, and American diplomacy and espionage intended to influence the postwar disposition of the territories of the Ottoman Empire. Lawrence was Britain's agent in this game, and the other powers' agents, although none enjoy his historical celebrity, assume prominence in Anderson's presentation. Its thorough research clothed in smoothly written prose, Anderson's history strikes a perfect balance between scope and detail about a remarkable and mysterious character.--Taylor, Gilbert Copyright 2010 Booklist
---
Publishers Weekly
(c) Copyright PWxyz, LLC. All rights reserved

Justifying this addition to the mountain of works on T.E. Lawrence, fabled war correspondent Anderson (The Man Who Tried to Save the World) reasons that "Lawrence was both eyewitness to and participant in some of the most pivotal events leading to the creation of the modern Middle East... a corner of the earth where even the simplest assertion is dissected and parsed and argued over." Too many biographers of Lawrence, he suggests, have let political biases and academic hobbyhorses overshadow their work. Anderson's own experience in some of the world's most chaotic places allows him to speak with authority in his portrayal, at once critical and appreciative, of Lawrence and other larger-than-life individuals who left their mark on the region. A flair for the dramatic makes even the dullest historical moments redolent of palace intrigue and imperialist hubris. Readers seeking to understand why turmoil has been so omnipresent in the Middle East will benefit from Anderson's easy prose, which makes liberal use of primary sources and research, but reads like a political thriller. The central message seems as relevant today as it was a century ago: revolutions whose success is dependent on the patronage of external powers come at a high price-a "loss of autonomy" and an influx of foreign carpetbaggers who show little concern for the inhabitants of the newly "free" land. Agent: Sloan Harris, ICM. (Aug. 6) (c) Copyright PWxyz, LLC. All rights reserved.