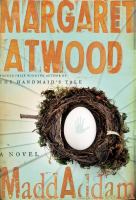 Publishers Weekly
(c) Copyright PWxyz, LLC. All rights reserved

The final entry in Atwood's brilliant MaddAddam trilogy roils with spectacular and furious satire. The novel begins where Oryx and Crake and The Year of the Flood end, just after most of the human species has been eradicated by a man-made plague. The early books explore a world of terrifying corporate tyranny, horrifying brutality, and the relentless rape of women and the planet. In Oryx and Crake, the pandemic leaves wounded protagonist Jimmy to watch over the Crakers, a humanoid species bioengineered to replace humankind by the man responsible for unleashing the plague. In The Year of the Flood, MaddAddamites wield science to terrorize corporate villains while God's Gardeners use prayer and devotion to the Earth to prepare for the approaching cataclysm. Toby, a God's Gardener and key character in the second book, narrates the third installment, in which a few survivors, including MaddAddamites, God's Gardeners, Jimmy, and the Crakers, navigate a postapocalyptic world. Toby is reunited with Zeb, her MaddAddamite romantic interest in Year of the Flood, and the two become leaders and defenders of their new community. The survivors are a traumatized, cynical group with harshly tested self-preservation skills, but they have the capacity for love and self-sacrifice, which in a simpler story would signal hope for the future of humankind. However, Atwood dramatizes the importance of all life so convincingly that readers will hesitate to assume that the perpetuation of a species as destructive as man is the novel's central concern. With childlike stubbornness, even the peaceful Crakers demand mythology and insist on deifying people whose motives they can't understand. Other species genetically engineered for exploitation by now-extinct corporations roam the new frontier; some are hostile to man, including the pigoons-a powerful and uniquely perceptive source of bacon and menace. Threatening humans, Crakers, and pigoons are Painballers-former prisoners dehumanized in grotesque life-or-death battles. The Crakers cannot fight, the bloodthirsty Painballers will not yield, and the humans are outnumbered by the pigoons. Happily, Atwood has more surprises in store. Her vision is as affirming as it is cautionary, and the conclusion of this remarkable trilogy leaves us not with a sense of despair at mankind's failings but with a sense of awe at humanity's barely explored potential to evolve. Agent: Vivienne Schuster, Curtis Brown Literary Agency (U.K.). (Sept.) (c) Copyright PWxyz, LLC. All rights reserved.
---
Book list
From Booklist, Copyright © American Library Association. Used with permission.

*Starred Review* Ten years after Oryx & Crake (2003) rocked readers the world over, Atwood brings her cunning, impish, and bracing speculative trilogy following The Year of the Flood (2009) to a gritty, stirring, and resonant conclusion. In the wreckage of a maniacal bioengineering empire, Toby, a can-do gal and a key member of the once thriving God's Gardeners, a peaceful green resistance group, reconnects with her great unrequited love, Zeb, of the MaddAddamite bioterrorists. All tactical differences evaporate in the wake of the apocalyptic pandemic as their small band of survivors fights off fiendishly violent Painballers and marauding part-pig, part-human pigoons. The bioengineered Crakers purring, kudzu-eating, sexually rambunctious, story-demanding quasihumans worship Jimmy, whom they call Snowman. When he falls ill, Toby steps up. Her pseudoreligious attempts to explain life to the Crakers are hilarious and poignant, compared to Zeb's shocking and riveting stories about his father, the malevolent head of the Church of PetrOleum, and what turned Zeb into MaddAddam. Atwood is ascendant, from her resilient characters to the feverishly suspenseful plot involving battles, spying, cyberhacking, murder, and sexual tension. Most resounding is Atwood's vibrant creation of a scientifically plausible, regenerating, and evolving world driven not simply by the reproductive imperative but also by a cell-deep need for stories. The coruscating finale in an ingenious, cautionary trilogy of hubris, fortitude, wisdom, love, and life's grand obstinacy. HIGH-DEMAND BACKSTORY: Atwood will tour the country and appear on major broadcast and social media to exuberantly promote the extraordinary closing novel in her best-selling trilogy.--Seaman, Donna Copyright 2010 Booklist
---
Library Journal
(c) Copyright Library Journals LLC, a wholly owned subsidiary of Media Source, Inc. No redistribution permitted.

The compelling conclusion to Atwood's dystopian trilogy opens with a brief synopsis of the series' first two books, Oryx & Crake and The Year of the Flood, then launches directly into the story of the MaddAddamites, survivors of a global pandemic that wiped out most of humanity. Readers, even those unfamiliar with the human characters and the genetically engineered new species Atwood has created in her futuristic world, will be quickly drawn in and eager to find out what happens to the MaddAddamites and to the Crakers, a gentle, quasihuman species created by Crake. Their world is full of many dangers, including direct attacks from criminally insane Painballers and from pigoons, transgenic pigs developed to grow replacement organs for humans. Toby, Zeb, and the rest of the MaddAddamites are alive, but will they be able to continue not only to subsist but to build up their small society and, eventually, live alongside the Crakers and even flourish? VERDICT Certainly of great interest to Atwood fans awaiting this third book of the trilogy and for fans of dystopian/postapocalyptic fiction generally, this finale is a gripping read for any reader. [See Prepub Alert, 3/25/13.]-Shaunna E. Hunter, Hampden-Sydney Coll. Lib., VA (c) Copyright 2013. Library Journals LLC, a wholly owned subsidiary of Media Source, Inc. No redistribution permitted.