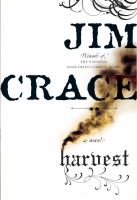 Publishers Weekly
(c) Copyright PWxyz, LLC. All rights reserved

In his previous 10 novels, the versatile Crace has been heralded for his firmly rooted, painstakingly detailed impressions of time and place, and his latest work is no exception. In fact, the setting-an isolated English farming village, in an unspecified past, with its "planched and thicketed" inhabitants-is so imaginatively described that it stands as the book's richest character. Over the course of seven days following the harvest, the hamlet is alight with sudden change. A mysterious fire has set Master Kent's manor stables and dovecote ablaze. Three newcomers-two men and an ominously alluring woman-who arrived that same night are hastily blamed for the fire. All three have their heads shaved as punishment, and the men are shackled for a week to a pillory. When one of them dies and the master's favorite horse is later found bludgeoned to death, accusations of witchcraft erupt from within the townsfolk's ranks and nothing, not even the secretive Master Kent's halfhearted attempt at rooting out the truth and delivering justice, can quell the thirst for revenge that rattles the once principled town to its foundation. Walter Thirsk plays the perfect unreliable narrator; his deliberations about Master Kent's true intentions, his neighbors' guilt, and his own role in the events deepen an already resonant story. Crace's signature measured delivery and deliberate focus create unforgettably poetic passages that quiver with beauty. An electrifying return to form after All That Follows. Agent: David Godwin, DGA, U.K. (Feb.) (c) Copyright PWxyz, LLC. All rights reserved.
---
Book list
From Booklist, Copyright © American Library Association. Used with permission.

The order and calm of a preindustrial village in England is upset by a mysterious fire and the simultaneous appearance of three strangers. The insular community strikes out against the newcomers but turns on itself in a fit, literally, of witch hunting. As slowly paced as the feudal England in which it is set, this latest by the highly acclaimed Crace, winner of the Man Booker Prize for Quarantine (1998), is a tour de force written in the precise but simple indeed, medieval language of its resident narrator, Walter Thirsk. His eye is keen, his observations insightful, and his fundamental compassion evident as he experiences the passing of his and his community's pastoral quiet. This is a spare, disquieting, unique, and ultimately haunting and memorable little novel. Its limited accessibility may restrict its audience, but followers of literary fiction will be reading and talking about it.--Levine, Mark Copyright 2010 Booklist
---
Library Journal
(c) Copyright 2010. Library Journals LLC, a wholly owned subsidiary of Media Source, Inc. No redistribution permitted.

Crace (Being Dead) is a master at creating worlds at once familiar and startlingly sui generis. In a premodern English village, the biblical caution "As ye reap, so ye shall sow" proves true both literally and figuratively; with the hard work of planting and harvesting as backdrop, we see the villagers move inexorably toward a tragedy they've provoked. One morning, Master Kent's stable is found burning, and strangers who have peaceably signaled their presence by sending up the customary smoke plume are blamed; their heads are shaved, and the two men are put in stocks. The only one to show them sympathy is odd Mr. Quill, hired to map the village lands. As suggested by the narrator, Walt-himself an outsider brought to the manor by Master Kent-that mapping heralds a foreboding shift in the village's future that parallels its current troubles. -VERDICT A quietly breathtaking work revealing how fate plays with us as we play with fate; highly recommended. [Prepub Alert, 8/27/12]-Barbara Hoffert, Library Journal (c) Copyright 2012. Library Journals LLC, a wholly owned subsidiary of Media Source, Inc. No redistribution permitted.