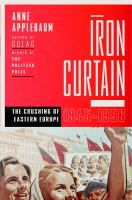 Book list
From Booklist, Copyright © American Library Association. Used with permission.

Applebaum's Gulag received a 2004 Pulitzer Prize, an accolade that accords prominence on her new, groundbreaking investigation of the history of communism. Examining Stalin's imposition of totalitarian regimes on Poland, Hungary, and the Soviet zone of Germany, Applebaum depicts Communist parties that were remorselessly successful in destroying opposition but that failed to win widespread popular support. An interesting motif in Applebaum's history is the awareness by Communist leaders of civil society's rejection of Stalinist socialism, demonstrated by the communists' losses in somewhat unfettered postwar elections. After redressing that problem with rigged polls and mini gulags, the regimes strove to improve communist ideology's attractiveness through propaganda, mass demonstrations, socialist realism in art, and model communist cities. Some people became convinced supporters, but most did not and survived through personal compromises with communism. The latter's individual stories, drawn from interviews and research into those suppressed by state security, infuse Applebaum's account with perplexing human interest. What made for a collaborator, a true believer, a dissident? A masterful chronicle and analysis, Applebaum's work is a history-shelf necessity.--Taylor, Gilbert Copyright 2010 Booklist
---
Choice
Copyright American Library Association, used with permission.

Focusing mainly on Poland, East Germany, and Hungary, journalist and Pulitzer Prize-winning author Applebaum details the transition to communism in Eastern Europe in the early post-WWII years. Her in-depth, captivating study illustrates how the Soviet government managed this transformation by destroying civil society and building new state-controlled institutions. Soviet administrators used local collaborators, international communists trained in the USSR, the Red Army, and the Soviet and local secret police to enact deportations, ethnic cleansing, terror, purges, and mass fear to ensure the restructuring of East European societies, cultures, and economies. Picking up where Timothy Snyder left off in his Bloodlands: Europe between Hitler and Stalin (2010), which focuses on the war years, Applebaum's description of the violence and tragedy that befell this region in the early postwar period is similarly haunting and distressing. In the book's last chapters, Applebaum explains how communism in Eastern Europe endured through her discussion of the ways in which many people reluctantly accepted it, passively resisted it, but ultimately allowed it to continue. This thought-provoking, well-written work will be appreciated by a wide audience. Summing Up: Highly recommended. All levels/libraries. M. Chakars Saint Joseph's University
---
Library Journal
(c) Copyright Library Journals LLC, a wholly owned subsidiary of Media Source, Inc. No redistribution permitted.

When World War II came to an end in Europe in May 1945, the armies of the Soviet Union occupied all of Eastern Europe-and for the next 45 years that would be the case. Stalin and his henchmen aggressively took control of all aspects of life in the occupied nations, shutting down all independent agencies, governments, newspapers, etc., throughout the region. Within a decade, all pretense of freedom was gone for millions of citizens. Pulitzer Prizer winner Applebaum (director of political studies, Legatum Inst., London; Gulag: A History) has applied her immense knowledge-and impressive language skills-to a thorough investigation of how the Soviets under Stalin and his successors systematically established nearly totalitarian control of Eastern Europe and, in so doing, laid waste to cultures and societies that had been built over centuries. Verdict This is a powerful and sobering book, by far the best treatment to yet appear on the topic. There have been earlier studies treating individual nations (e.g., Laszlo Borhi's Hungary in the Cold War, 1945-1956, and Andrzej Paczkowski's The Spring Will Be Ours: Poland and the Poles from Occupation to Freedom, translated from Polish by Jane Cave), but no one has accomplished the synthesis of multiarchival sources that Applebaum presents here. An important and essential study of a neglected aspect of the Cold War era. [This book has been nominated for the 2012 National Book Award in nonfiction.-Ed.]-Ed Goedeken, Iowa State Univ. Lib., Ames (c) Copyright 2012. Library Journals LLC, a wholly owned subsidiary of Media Source, Inc. No redistribution permitted.
---
Publishers Weekly
(c) Copyright PWxyz, LLC. All rights reserved

According to this disturbing but fascinating history, the U.S.S.R.'s 1944-1950 subjugation of Eastern Europe was a brutal process. With other priorities in the forefront at Yalta and other wartime Allied summits, FDR gave Soviet occupation of Eastern Europe short shrift, according to Pulitzer Prize-winning author Applebaum (Gulag). In this account of the Soviet takeover of Eastern Europe during and after WWII, Applebaum concentrates on events in Poland, Hungary, and what became East Germany, all of which unroll with depressing sameness. The Soviet army arrived in 1944-1945 with enormous destruction. There followed an orgy of arrests, trials, executions, and deportation of "fascists," a broad category that included noncommunist anti-Nazi resistance groups. Expulsions of ethnic Germans was also carried out on a mass scale. Faithful Marxists, the Soviet leaders knew that the masses would prefer communism, so they initially allowed political parties, churches, newspapers, and even elections, assuming the people would naturally vote for a proletarian state. When that didn't happen, democracy was quickly shut down. Applebaum delivers a gripping if unremittingly painful account of the period during which Communists, astonished at losing every election, steadily suppressed civil society, whereupon darkness descended for 40 years. With precision in her narration and penetrating analysis, Applebaum has written another masterful account of the brutality of Soviet rule. Illus., maps. Agent: Georges Borchardt, Georges Borchardt Inc. (Nov.) (c) Copyright PWxyz, LLC. All rights reserved.