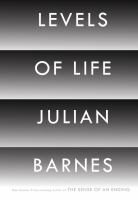 Book list
From Booklist, Copyright © American Library Association. Used with permission.

Barnes, who won the Man Booker Prize for his most recent novel, The Sense of an Ending (2011), is a stealthy essayist. His tone is urbane and wry, his style pared and sure, but his emotions are stormy. As in his previous essay collection, Nothing to Be Frightened Of (2008), death is Barnes' theme. Though one wouldn't think so at the outset as he describes three nineteenth-century balloon flights in England and France enjoyed by three intriguing, eventually interconnected balloonatics. There's rascally Colonel Fred Burnaby; Felix Tournachon, better known as Nadar, the pioneering aerial and portrait photographer; and the Divine Sarah Bernhardt. Barnes muses on why being airborne is exhilarating, in spite of one's being at the mercy of wind and weather. The profound metaphorical resonance of Barnes' fascination with ballooning emerges as he addresses the sudden death of his wife of 30 years and his painful plunge into mourning. This bright wand of a book is testimony to Barnes' commanding artistry, delving intelligence, and high imagination as he writes of being griefstruck with stunningly vital and tonic perception.--Seaman, Donna Copyright 2010 Booklist
---
Publishers Weekly
(c) Copyright PWxyz, LLC. All rights reserved

British novelist Barnes (The Sense of an Ending) offers a delicately oblique, emotionally tricky geography of grief, which he has constructed from his experience since the sudden death in 2008 of his beloved wife of 30 years, literary agent Pat Kavanagh. The "levels" of the title-a high, even, and deep "moral space"-play out in the juxtaposition of two subjects that are seemingly incongruous but potentially marvelous and sublime together, as Barnes delineates through his requisite and always fascinating historical examples: the 19th-century French photographer Nadar's attempts to unite the evolving science of aeronautics ("the sin of height") with the art of photography for the first astounding aerial views of Earth; and English traveler and avid balloonist Colonel Fred Burnaby's passion for the bold, adventurist French actress Sarah Bernhardt. The shocking death of Barnes's wife left him feeling flattened and suicidal. In his grieving turmoil, he questions assumptions about death and mourning, loss and memory, and he grapples eloquently with the ultimate moral conundrum: how to live? (Sept.) (c) Copyright PWxyz, LLC. All rights reserved.
---
Library Journal
(c) Copyright Library Journals LLC, a wholly owned subsidiary of Media Source, Inc. No redistribution permitted.

British novelist, essayist, and Man Booker Prize-winning author Barnes (The Sense of an Ending) stitches together three very different essays into a meditation on love, death, grief, and survival. The first piece is a collage about ballooning and photography and establishes the metaphorical motifs that will frame the work as a whole. Indeed, ballooning aptly describes this book's arrangement: Barnes opens with an objective, bird's-eye account of three famous aeronauts and then begins his descent, first toward the ground and then, finally, into his interior thoughts. By the end, his narrative closes completely the psychic distance between the reader and himself. Barnes's wife, Pat Kavanagh, to whom he had been married for 30 years, died suddenly of cancer in 2008. He describes his grief as aimless, disorienting, and unending-as if being carried by the wind, in a balloon. Truly dedicated "To Pat," these essays recall Joan Didion's The Year of Magical Thinking, which is also about the bereavement for a spouse. Yet Barnes offers a work that is more universal, illustrating how desire expands and elevates the human condition and yet, paradoxically and necessarily, also promises suffering. Verdict This book will resonate most with those who have suffered the death of a loved one, but readers who have deeply loved-and therefore deeply grieved-will also understand and appreciate it.-Meagan Lacy, Indiana Univ.-Purdue Univ. Indianapolis Libs. (c) Copyright 2013. Library Journals LLC, a wholly owned subsidiary of Media Source, Inc. No redistribution permitted.