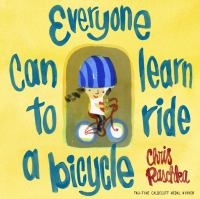 School Library Journal
(c) Copyright Library Journals LLC, a wholly owned subsidiary of Media Source, Inc. No redistribution permitted.

K-Gr 2-In his latest foray into childhood territory, Raschka explores the roles of adult and child in achieving one of the most challenging milestones of growing up-mastering a two-wheeler. The large, hand-lettered title framing the successful rider on the cover conveys the positive outcome, so the page turns are all about "how?" The story is narrated by an adult, presumably the father, but not limited to this relationship by text or image. The girl's thoughts are all expressed visually. When the two are picking out a new bicycle and then watching other riders, the busy pages portray colorful examples, some surrounded by washes of watercolor, others set against the white background; all are connected with small strokes that animate the compositions. Clad in an enormous, blue-striped helmet, the child is watchful, then tireless, as she practices with training wheels. The narrator admits that taking them off is "a bit scary," and the remaining scenes depict a brave girl in various stages of falling, trying, and being comforted and encouraged. In some close-ups, the heart on her shirt is askew, likely mimicking her actual pulse. Her legs, painted in thin, blue strokes, exhibit a fragile flexibility that expresses volumes. Raschka's well-chosen words, spread over several pages, admonish: "Find the courage to try it again,/again, and again. until/by luck, grace, and determination,/you are riding/a bicycle!" The artist's marvelous sequences, fluid style, and emotional intelligence capture all of the momentum and exhilaration of this glorious accomplishment.-Wendy Lukehart, Washington DC Public Library (c) Copyright 2013. Library Journals LLC, a wholly owned subsidiary of Media Source, Inc. No redistribution permitted.
---
Book list
From Booklist, Copyright © American Library Association. Used with permission.

*Starred Review* From the reassuring title onward, this vibrant picture book describes learning to ride a bicycle a monumental challenge for many children. A father guides his daughter through the process, which begins with choosing the perfect bike, watching others ride, and realizing that all those expert riders once learned this skill as a beginner, too. The girl begins to ride with the training wheels set low, then set high, and then removed. She takes some spills, gets back on, and tries again. When she is frustrated, her father encourages her to try again and again and again and eventually, she can ride a bicycle. So much is heartening about the book, from the father's consistently kind, matter-of-fact tone to the fact that the process begins with simple steps and leads up to more challenging ones. Rendered in Raschka's signature style of fluid, kinetic brushstrokes, the ink-and-watercolor illustrations beautifully capture the action and emotion in each scene. (Safety-minded adults will also be happy to note that the girl is wearing an enormous helmet throughout the book.) Deceptively simple and perfectly paced for read-alouds, this latest from the two-time Caldecott medalist captures a child's everyday experience with gentle, joyful sensitivity.--Phelan, Carolyn Copyright 2010 Booklist
---
Publishers Weekly
(c) Copyright PWxyz, LLC. All rights reserved

Two-time Caldecott Medalist Raschka (A Ball for Daisy) crafts an encouraging, artful, and eminently practical approach to a childhood rite of passage: learning to ride a bike. Freewheeling watercolors feature a balding man-perhaps an older father or grandfather-and a cautious girl in a blue, watermelon-size helmet. The calm adult offers reassurance, pointing out all-ages bicycle commuters: "Watch everyone ride. They all learned how." He adjusts the training wheels ("If we raise them up a smidge, you'll begin to feel your balance"), and a pictorial sequence shows the girl's wobbly progress. They then remove the training wheels, resulting in some spills ("Oops! You nearly had it"). The girl grows disappointed, and her helper responds with an understanding hug. By the finale, the girl joins other riders in a park, all shaped by light, translucent pools of color. Raschka's breezy conclusion ("You are riding a bicycle! And now you'll never forget how") brings to mind a familiar saying. Adults will close the book with a lump in their throats, children with a firm sense of purpose. Ages 4-8. Agent: Brenda Bowen, Sanford J. Greenburger Associates. (Apr.) ? (c) Copyright PWxyz, LLC. All rights reserved.