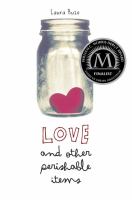 Book list
From Booklist, Copyright © American Library Association. Used with permission.

The hot topic of romance on the job is at the center of this debut novel. Working at the checkout in her local supermarket in Sydney, Australia, 15-year-old Amelia has a crush on her handsome supervisor, college student Christopher. He likes the youngster, and they talk about classic books, movies, and more; but he is in love with fellow worker Michaela. Or is his obsession with his supervisor, Kathy? With a big cast, this novel from Australia takes on just about everything, mainly in Amelia's first-person, present-tense narrative, with a few detours into Chris' long notebook entries and letters. Woven around the romance plots are issues about feminism today: yes, mom can work, but why does she still have to do all the housework? What will hold teens most is the charged, authentic, and awkward social scene at work. Amelia is not popular: is it because she refuses to cozy? The realistic situations and questions will stay with readers.--Rochman, Hazel Copyright 2010 Booklist
---
School Library Journal
(c) Copyright Library Journals LLC, a wholly owned subsidiary of Media Source, Inc. No redistribution permitted.

Gr 9-11-Sensitive and intelligent Amelia Hayes, 15, takes an after-school job at a local supermarket, and the minute she meets university student Chris, who trains her to work the checkout, she's a goner. Alas, it's a mostly one-sided infatuation. Amelia wants romance with the charming 21-year-old, but he is mourning a failed relationship and sees Amelia only as a bright and funny "youngster." Over the course of a year, her cringe-worthy crush persists, although she tries valiantly to hide it from Chris and the rest of the supermarket crew, all of whom are quirky and deserve books of their own. Chris is busy working too many hours and trying to avoid graduating and getting a real job by extending his coursework to include a second major. It's abundantly clear that if there weren't such a dramatic age difference, the genuine friendship between Chris and Amelia could have morphed into a heavy-duty romance, and this makes her plight even more painful. The author captures all of the conflicting emotions of both characters by telling the story through Amelia's eyes as well as through some of Chris's journal entries, which provide background information about his failed love affair, his relationship with his family and friends, and his ambivalence about his future. There is quite a lot of underage drinking and some funny discussions of pot use. The realistic conclusion is a bit open-ended, which lends hope that there will be a sequel.-Susan Riley, Mount Kisco Public Library, NY (c) Copyright 2012. Library Journals LLC, a wholly owned subsidiary of Media Source, Inc. No redistribution permitted.
---
Publishers Weekly
(c) Copyright PWxyz, LLC. All rights reserved

Set over the course of a year, Buzo's debut, first published in Australia, tracks 15-year-old Amelia as she pines over Chris, a boy six years her senior, who works the checkout with her at a supermarket in New South Wales. Amelia knows that a relationship with Chris is probably impossible, but she can't get him out of her head. From the beginning, Buzo underscores the idea that Chris and Amelia are simply at different stages of their lives (a line Chris even uses on Amelia at one point). Chapters told from Amelia's perspective are all about Chris, even as she vents her frustrations about her parents' relationship and feeling young and naive. Conversely, Amelia barely warrants a mention in Chris's chapters, diary entries in which he mopes over being dumped by the love of his life and details partying with friends at university. Throughout, readers see how little Amelia really knows about Chris, a powerful bit of dramatic irony. It's a believable and often funny portrait of the messy relationship between a starry-eyed but sharp-witted teenager and a young man stumbling his way into adulthood. Ages 14-up. (Dec.) (c) Copyright PWxyz, LLC. All rights reserved.