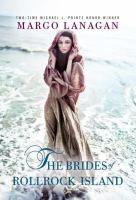 Publishers Weekly
(c) Copyright PWxyz, LLC. All rights reserved

In this powerful but grim tale set on a rugged, windswept island, an unlovely, embittered young woman discovers that she can magically pull human beings out of seals: "I drew each speck toward and into the man-shape at his center. A head-blur parted from the body-blur; some limbs came good, splitting from the main shine. Then suddenly the man's outline sharpened within the seal." She uses this power first to find herself a lover and then to take revenge on the people of Rollrock Island, who she believes have slighted her, providing each man with a supernaturally beautiful seal-woman (for a price). Decades later, the jilted human women have all left the island, leaving the spell-struck men with their captive wives, who cannot always hide their yearning for the sea. Lanagan (Tender Morsels) casts the traditional selkie tale in a poetic yet deeply antiromantic form. What, she asks, would such a relationship truly be like? How might it satisfy, but also destroy those involved? A beautifully written story featuring a thoroughly realized setting and cast. Ages 14-up. Agent: Jill Grinberg, Jill Grinberg Literary Management. (Sept.) (c) Copyright PWxyz, LLC. All rights reserved.
---
Book list
From Booklist, Copyright © American Library Association. Used with permission.

*Starred Review* After putting her phantasmagorical stamp on Snow-White and Rose-Red in the Printz Honor Book Tender Morsels (2008), Lanagan's second novel finds inspiration in selkie legends seals who shed their skins to become human for a time with this tale of elementary wrongs leading to elemental retribution. Shunned for her ugliness by most everyone in her tiny fishing village on Rollrock Island, Misskaela Prout becomes a sort of witch, gleaning the forgotten art of magicking human forms out of the seals lounging on the beach. Enchanted by lust, the Rollrock men soon forsake their wives and pay Misskaela to conjure their mates. Told in a variety of voices across several generations in what is essentially a series of linked novellas, the book spins out the ramifications of men keeping women hostage through love and cherished children, despite the women's innate desire to return to the sea. Though this is a more reflective affair than some of Lanagan's feistier works, her writing is as sumptuous as ever: a fine mist of lyrical elegance and sharp anguish that offers vast spaces to get lost in. The passage in which a boy joins his mother in seal form is pure poetry, expressing the inexpressible: the best I can do is overlay a skin of man-words on the grunt and urge and song and flight and slump of seal-being. A haunting, masterfully crafted novel that, as one should by now expect from Lanagan, isn't a bit like anything else.--Chipman, Ian Copyright 2010 Booklist
---
School Library Journal
(c) Copyright Library Journals LLC, a wholly owned subsidiary of Media Source, Inc. No redistribution permitted.

Gr 8 Up-Misskaella Prout, the baby of the family, was born on a craggy, seal-covered island, when "there were no looks left for Prout girls." She is resentful of the boys who can't see past her lumpish form, and when she discovers she has a magical ability to cause human figures to step out of the bodies of seals, she calls forth a lover and finds herself with child. Over the years, she draws forth beautiful black-haired women, bought for a dear price by island men eager for wives. Now known as a witch, she can afford to buy the biggest house on the island, but finds herself no closer to happiness. The seal coats are hidden away, trapping the selkies in human form, where they create discontented families and bear half-enchanted sons. The story follows several generations, primarily those of Misskaella (who ages very slowly) and the Mallett family. When several sons unite to steal back the seal coats, the mams weave seaweed blankets and wrap their sons, so all can transform into seals together, leaving the human men behind. The men are not all bad, and one of them wonders occasionally why the women don't take a bit more charge of their own fate. Lanagan's writing is undeniably gorgeous. Her phrases and pacing almost demand that readers stop and admire their beauty. Many high school readers may not be ready to look past a plot of lumpen, unpopular misfits, and dark choices wrongly made. Encourage them to read for the richness of the language, and they may find the plot will grow on them. A natural audience would be readers who enjoyed the literary qualities of Christina Meldrum's Madapple (Knopf, 2008), Franny Billingsley's Chime (Dial, 2010), and E. Annie Proulx's The Shipping News (Scribner, 1999).-Maggie Knapp, Trinity Valley School, Fort Worth, TX (c) Copyright 2012. Library Journals LLC, a wholly owned subsidiary of Media Source, Inc. No redistribution permitted.