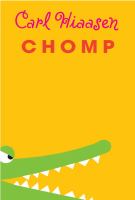 Book list
From Booklist, Copyright © American Library Association. Used with permission.

You can't knock Hiaasen for inconsistency. In his fourth monosyllabically titled book for young readers (after Hoot, 2002; Flush, 2005; and Scat, 2009), he keeps to the same formula: set up a cast of plucky, lovable Everglades kooks, pit them against greedy, wildlife-hating outsiders and buffoonish swamp villains, and mix it all up with offbeat humor, swift plotting, and heartfelt environmentalism. Here, our heroes come in the form of Mickey and Wahoo Cray, a father-son team of wildlife wranglers who get hired by a hit reality show starring survivalist Derek Badger. It's immediately clear that Badger is nothing more than a well-edited fraud who'd rather bite the head off a bat to spike ratings than paint an honest picture of Florida wildlife, but that's only the beginning of their troubles, which are amped up by a pistol-toting drunk, a scheming producer, and the entirely justified lashing out of the animals themselves. Hiaasen is particularly adept at making the preposterous just barely plausible, and again turns in a finely tuned mix of satire and madcap adventure. HIGH-DEMAND BACKSTORY: Hiaasen's built a sizable cadre of young fans, and his adult readers will also take notice of a new book for kids.--Chipman, Ian Copyright 2010 Booklist
---
School Library Journal
(c) Copyright Library Journals LLC, a wholly owned subsidiary of Media Source, Inc. No redistribution permitted.

Gr 6-9-Things are looking bleak for Wahoo and his animal wrangler father; the mortgage is months overdue, and Wahoo's mother has left for the summer to work in China. They think it is the answer to their financial frustrations when the hit reality TV show Expedition Survival! wants to hire Mickey and Wahoo to help their star, more prima donna than rugged survivalist, film their Everglade episode. On the first day, Derek Badger ignores Mickey's sage animal-handling advice, attacking a python and trying to ride a croc. The result is an infuriated handler and some excellent footage. The show, however, loves the realistic feel and decides to head to the wilds for some unscripted shoots. Wahoo runs into a physically abused schoolmate and is inspired to take her with them to save her from her father. Tuna's father pursues her, and suddenly keeping Derek safe isn't Mickey's only potentially deadly task. Chomp reads at a good pace and has some unique, lovable characters. The author manages to sustain a comedic mood with the inept survivalist and the budding romance between two fish-named youngsters while simultaneously developing an underlying sense of tension. Mystery, action, humor, and exotic animals and settings, all tied together by a writer with an exceptional grasp of language, makes this a sure hit with any mystery-loving readers.-Devin Burritt, Wells Public Library, ME (c) Copyright 2012. Library Journals LLC, a wholly owned subsidiary of Media Source, Inc. No redistribution permitted.
---
Book list
From Booklist, Copyright © American Library Association. Used with permission.

You can't knock Hiaasen for inconsistency. In his fourth monosyllabically titled book for young readers (after Hoot, 2002; Flush, 2005; and Scat, 2009), he keeps to the same formula: set up a cast of plucky, lovable Everglades kooks, pit them against greedy, wildlife-hating outsiders and buffoonish swamp villains, and mix it all up with offbeat humor, swift plotting, and heartfelt environmentalism. Here, our heroes come in the form of Mickey and Wahoo Cray, a father-son team of wildlife wranglers who get hired by a hit reality show starring survivalist Derek Badger. It's immediately clear that Badger is nothing more than a well-edited fraud who'd rather bite the head off a bat to spike ratings than paint an honest picture of Florida wildlife, but that's only the beginning of their troubles, which are amped up by a pistol-toting drunk, a scheming producer, and the entirely justified lashing out of the animals themselves. Hiaasen is particularly adept at making the preposterous just barely plausible, and again turns in a finely tuned mix of satire and madcap adventure. HIGH-DEMAND BACKSTORY: Hiaasen's built a sizable cadre of young fans, and his adult readers will also take notice of a new book for kids.--Chipman, Ian Copyright 2010 Booklist
---
Publishers Weekly
(c) Copyright PWxyz, LLC. All rights reserved

Hiaasen extends his brand of Florida eco-adventures with this loopy foray into reality TV. Derek Badger, star of Expedition Survival!, arrives to film an Everglades episode, enlisting the services of animal wrangler Mickey Cray, a sort of Dr. Doolittle who specializes in snakes and keeps a 12-foot-long gator named Alice as a pet. Mickey holds his nose but takes the job, assisted by his son, Wahoo, a goodhearted teenager who's able to handle his father as well as his father handles pythons. Badger, naturally, is a complete fraud, who choppers off to a hotel each evening while mosquitoes dine on his crew. After filming starts, Badger gets lost in the swamp with only his (dim) wits to help him survive. There are no cute owls or endangered panthers to save-tension derives from wondering whether Badger will get himself killed before Mickey does it for him, and a subplot about Wahoo's friend Tuna, who's on the run from her abusive father. Not as tightly constructed as Hoot and tamer than Flush, but still pretty hilarious. Ages 10-up. Agent: Esther Newberg, ICM. (Mar.) (c) Copyright PWxyz, LLC. All rights reserved.