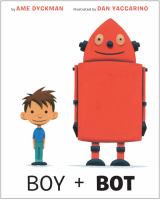 Publishers Weekly
(c) Copyright PWxyz, LLC. All rights reserved

Imaginative and sweet-natured, Dyckman's picture-book debut centers on the relationship between a boy and a robot, whose mutual generosity embodies the very best that friendship has to offer. Scruffy haired Boy and red, bullet-shaped Bot hit it off immediately after they meet in the forest. But when a rock accidentally turns off Bot's power switch, Boy jumps into caregiver mode, taking Bot home, feeding him applesauce, reading him a story, and tucking him in for the night. And when Bot is inadvertently reactivated and finds Boy asleep, he reciprocates the only way he knows how, giving Boy oil, reading him an instruction manual, and bringing him a spare battery. Yaccarino's (All the Way to America) brightly colored gouache illustrations and chunky characterizations are filled with affection and create a warm and cheery environment from first page to last. Dyckman's pared-down prose gives the role-reversal story just enough drama, humor, and robot-inflected dialogue ("Boy! You-are-fixed!" cheers Bot when Boy wakes up) to keep children entertained for many re-readings. Ages 1-4. Agent: Scott Treimel, Scott Treimel NY. Illustrator's agent: Rebecca Sherman, Writers House. (Apr.) (c) Copyright PWxyz, LLC. All rights reserved.
---
Book list
From Booklist, Copyright © American Library Association. Used with permission.

*Starred Review* Is any love greater than that between a boy and his robot? While picking pinecones, a boy meets a bright-red, rocket-shaped robot and asks, Want to play? Affirmative! the robot responds, and the pair has tons of fun until a rock bumps the robot's power switch off. Not understanding the bot's unresponsiveness, the boy wheels him home and begins feeding him applesauce, reading him a story, and crafting a makeshift bed. When the boy's parents, unaware of a robot behind the door, check on their son, the door bumps the robot's power switch back on. Not distinguishing the boy's unresponsiveness as sleep, the robot, in a humorous reversal, fears the boy has malfunctioned and carries him back to his laboratory, where he gives him oil and begins to prepare a new battery when, just in time, the not-evil-at-all inventor shows up to put things right. The spare text ( Boy! You-are-fixed! ) replicates the steady beats of the simple yet comedic story, while Yaccarino's expressive, quirky, and humorously geometric gouache illustrations make the boy and robot's relationship all the more endearing. The final, nearly wordless pages, with snapshots of the friends at play, are priceless.--Leeper, Angela Copyright 2010 Booklist
---
School Library Journal
(c) Copyright Library Journals LLC, a wholly owned subsidiary of Media Source, Inc. No redistribution permitted.

PreS-K-A small boy and a robot become playmates. When Bot's power switch accidentally gets turned off, his pal thinks he's sick and takes him home where he feeds him, reads him a story, and puts him to bed. When the boy's parents check on their sleeping son, they unknowingly bump the robot's switch and he turns back on. Seeing the sleeping boy, he thinks there has been a malfunction. The robot takes the boy to his home, squirts oil into the child's ear, and reads him a story. He thinks that Boy may need a new battery. When the Inventor shows up and sees what is happening, he shouts to Bot, which awakens the boy. The pals are relieved to see that each of them is in good repair. Although the two friends must part, they promise to meet again. And so they do. The gouache cartoon illustrations have bright colors and crisp lines. With its subtle humor, this one is sure to fly off the picture-book shelves, as what little boy doesn't want a robot for a friend?-Ieva Bates, Ann Arbor District Library, MI (c) Copyright 2012. Library Journals LLC, a wholly owned subsidiary of Media Source, Inc. No redistribution permitted.