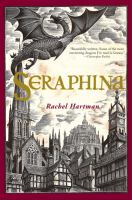 Book list
From Booklist, Copyright © American Library Association. Used with permission.

*Starred Review* Hartman proves dragons are still fascinating in this impressive high fantasy. After 40 years of peace between human and dragon kingdoms, their much-maligned treaty is on the verge of collapse. Tensions are already high with an influx of dragons, reluctantly shifted to human forms, arriving for their ruler Ardmagar Comonot's anniversary. But when Prince Rufus is found murdered in the fashion of dragons that is, his head has been bitten off things reach a fever pitch. Seraphina, a gifted court musician, wants only to go unnoticed as the investigation draws close: she is the unthinkable, a human-dragon half-breed, and her secret must be protected. But when Prince Lucian Kiggs asks for her help with the murder investigation, she has no choice but to become involved, even if Kiggs' acute perceptiveness is a danger to her. Equal parts political thriller, murder mystery, bittersweet romance, and coming-of-age story, this is an uncommonly good fantasy centered upon an odd but lovable heroine who narrates in a well-educated diction with an understated, flippant tone. Fantasy readers young and old who appreciate immersion into a rich new culture will not mind the novel's slow build, especially as it takes wing and hurtles toward the stratosphere. This is an exciting new series to watch.--Hutley, Krista Copyright 2010 Booklist
---
School Library Journal
(c) Copyright Library Journals LLC, a wholly owned subsidiary of Media Source, Inc. No redistribution permitted.

Gr 7 Up-For nearly 40 years, the treaty between the humans of Goredd and the dragons of dragonkind has held strong. Humans must not enter dragonkind territory and dragons, upon entering human lands, must take their human shape, or saarantrai. In Goredd, Seraphina's human father, a high offical, needs her to stay anonymous. The dark secret that she must hide is that her mother was a dragon. Because of her musical talents, Seraphina becomes Goredd's music assistant, helping prepare for the anniversary celebration. Layers of clothing disguise the scales on her arms and stomach, but unlike dragons, her blood runs red, not silver. Also, to keep from having fainting spells in which she relives her deceased mother's experiences, Seraphina must clear her head each night. She calls the figures in her vision grotesques, and each night, she must ensure all is calm in her mind-garden. When the decapitated body of Prince Rufus is found just days before the anniversary festivities, many humans are quick to accuse a dragon of breaking the pact. Seraphina's grotesques begin acting strangely, and the whole court is investigating the murder. When the celebrations are in full swing, all hell breaks loose as the rogue dragon that killed the prince enters Goredd in his dragon form and attempts to take control. Seraphina must risk revealing her true identity (and that of her fellow hybrids) in an attempt to save the kingdom. Hartman creates a rich story layered with intriguing characters and descriptive settings. Seraphina is a complex and fully developed protagonist. Although long, this unique novel (left open for a sequel) will surely appeal to fans of Christopher Paolini's "Eragon" books (Knopf) and wherever readers enjoy fantasies.-Lauren Newman, Northern Burlington County Regional Middle School, East Columbus, NJ (c) Copyright 2012. Library Journals LLC, a wholly owned subsidiary of Media Source, Inc. No redistribution permitted.
---
Publishers Weekly
(c) Copyright PWxyz, LLC. All rights reserved

In this complex, intrigue-laden fantasy, which establishes Hartman as an exciting new talent, readers are introduced to a world in which dragons and humans coexist in an uneasy truce, with dragons taking human form, dwelling among their former enemies, and abiding by a strict set of protocols. Sixteen-year-old Seraphina, assistant to the court composer, hides a secret that could have her ostracized or even killed: she's half-dragon, against all rules and social codes. Along with the distinctive scales she keeps hidden, she has a mind filled with misshapen personalities whose nature she doesn't quite grasp. As Seraphina navigates the complicated politics of a court where human-dragon relations are growing ever more fragile following a royal murder, she has to come to terms with her true nature and powers, the long-dormant memories her mother hid within her, and her growing affection for charming prince Lucian. There's a lot to enjoy in Hartman's debut, from the admirably resourceful heroine and intriguing spin on dragons to the intricately described medievalesque setting and emphasis on music and family. Ages 12-up. Agent: Daniel Lazar, Writers House. (July) (c) Copyright PWxyz, LLC. All rights reserved.