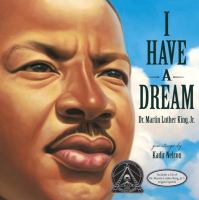 Book list
From Booklist, Copyright © American Library Association. Used with permission.

A great way to introduce young readers to Dr. Martin Luther King Jr.'s historic 1963 address, this large, square picture book presents the speech with long excerpts and full-page, glowing unframed oil portraits of King, as well as paintings of the thousands who came to hear him at the Lincoln Memorial during the March on Washington. Then there are images that expand on his stirring message, including a painting of a black teen and a white teen face-to-face, equal and connected, which accompanies the words the sons of former slaves and the sons of former slave owners will be able to sit down together at the table of brotherhood ; a large close-up of a black hand and a white hand clasped together; a view of children of many races singing let freedom ring ; and spreads showing mountain landscapes across the country. The full text of the speech is appended, and there is also a CD of King's address for those, including teens and adults, who want to revisit that momentous event, and not just on the third Monday in January. HIGH-DEMAND BACKSTORY: A new book from Nelson is always a publishing event, and his many fans, young and old, will be waiting for this.--Rochman, Hazel Copyright 2010 Booklist
---
Publishers Weekly
(c) Copyright PWxyz, LLC. All rights reserved

There's something exhilarating about viewing Nelson's (Heart and Soul) paintings of Dr. King and the March on Washington while reading the words of the speech King gave that day; it's hard to imagine a better representation of their historical significance. Nelson pictures King in front of a forest of microphones, his brow furrowed with concentration. "I have a dream today," he repeats as Nelson shows him in sharp profile-it almost seems possible to feel the warmth of his breath. "With this faith we will be able to work together, to pray together, to struggle together," he continues, accompanied by a painting of two clasped hands, black and white. Though it's a cliched image, Nelson's up-close rendering of the hands gives the picture startling freshness. American landscapes glow, and schoolchildren of every color look viewers in the eye, full of confidence. The speech is lightly edited in a way that makes it understandable for children of any age; a CD of the speech is enclosed. A glorious interpretation of a bedrock moment in 20th-century history. All ages. Agent: Steven Malk, Writers House. (Oct.) (c) Copyright PWxyz, LLC. All rights reserved.
---
School Library Journal
(c) Copyright Library Journals LLC, a wholly owned subsidiary of Media Source, Inc. No redistribution permitted.

Gr 2 Up-This splendidly illustrated tribute comes in time to celebrate the upcoming 50th anniversary of Dr. King's historic speech given on August 28, 1963. The full text is appended, though Nelson has chosen to illustrate just the latter portion, beginning with the words, "I say to you today, my friends, that even though we face the difficulties of today and tomorrow, I still have a dream." The luminous oil paintings employ a variety of techniques-scenes at the Lincoln Memorial have a sweeping impressionistic quality while other spreads employ the artist's signature photorealistic style. From the wraparound jacket featuring a powerful image of Dr. King, Nelson makes good use of the large, square trim size and generous design appropriate to illustrate such a significant moment in the Civil Rights Movement. While putting his own interpretative spin on the iconic words, he remains sensitive to King's intent; for example, several paintings focus on King's hope that all people will someday live in harmony-a theme that runs through the oration. The layout matches the tempo of the words with dramatic spreads resounding with the refrain "I have a dream," and the "Let freedom ring" chorus scenes unfold as a creative series of geographic panels. Even after 50 years, this seminal address still has the power to move listeners, and this handsome illustrated version will be welcomed in all collections. Includes a CD of Dr. King's original speech.-Caroline Ward, The Ferguson Library, Stamford, CT (c) Copyright 2012. Library Journals LLC, a wholly owned subsidiary of Media Source, Inc. No redistribution permitted.