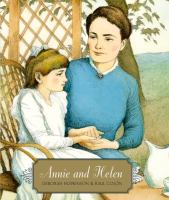 Book list
From Booklist, Copyright © American Library Association. Used with permission.

Concentrating on the early days of Helen Keller's transformative relationship with Annie Sullivan, this graceful picture-book biography allows its young readers to identify with the famous figure as a child close to their own age. Sections are divided by date from March 6, 1887, the day Annie arrived at the Keller's Alabama home, charged with teaching the wildly frustrated deaf and blind girl, to July 12, 1897, when Helen laboriously wrote a letter to her mother using her newfound skills. Colon's finely executed drawings use a calm palette of blues, golds, browns, and greens, which serve to soothingly reinforce Sullivan's measured, patient methods. They have an old-fashioned appeal similar to Garth Williams' illustrative work that suits the time period. Photographs of a young Helen are scattered across the endpapers, along with a judiciously chosen number of recommended books and websites that will lead readers onward. A Braille alphabet on the back cover is likewise a nice tactile touch for those fascinated by Helen's story of overcoming adversity.--Cruze, Karen Copyright 2010 Booklist
---
School Library Journal
(c) Copyright Library Journals LLC, a wholly owned subsidiary of Media Source, Inc. No redistribution permitted.

Gr 2-5-In this lucid picture book, readers follow Annie Sullivan's journey to teach young Helen Keller, at age seven, noted for her tantrums. Most know that Sullivan used the manual alphabet to fingerspell in the child's hand, but what is breathtakingly shown here, through accurate, cross-hatched watercolor paintings; excerpts from Sullivan's correspondence to her former teacher; and concise and poetic language, is the woman's patience and belief in the intelligence of her student to grasp the concepts of language. The first epiphany was at the outdoor pump when the girl comprehended that w-a-t-e-r was a word. "Now Helen began to devour words." Sullivan, then moved beyond names for things, "spoke" to Keller constantly and naturally, spelling rich, wonderful sentences into her palm, "like a mother to a child." Helen quickly started learning written language: letters, words, and with word flashcards, sentences. Sensitively wrought illustrations clearly depict her learning written English via raised letters. Most transcendent of all is a full-page copy of Helen's first letter home. The endpapers offer a dozen photos of the pair, and an embossed Braille alphabet adorns the back cover. While there is some fictionalization, it resides most firmly in fact, elucidating the brilliant process of educating the deaf and blind pioneered by Annie Sullivan. Pair this book with Emily Arnold McCully's My Heart Glow (Hyperion, 2008), the story of one of Helen's predecessors, Alice Cogswell, and her teacher Thomas Gallaudet, whose relationship resulted in the birth of American Sign Language for teaching the Deaf.-Sara Lissa Paulson, American Sign Language and English Lower School, New York City (c) Copyright 2012. Library Journals LLC, a wholly owned subsidiary of Media Source, Inc. No redistribution permitted.
---
Publishers Weekly
(c) Copyright PWxyz, LLC. All rights reserved

Combining short excerpts from Annie Sullivan's letters with lyrical prose, Hopkinson (A Boy Called Dickens) succeeds in making the early years of the relationship between Helen Keller and the woman she called Teacher feel newly remarkable. Hopkinson is especially good at bringing alive for younger audiences the complexity of language acquisition and the ingenuity and indomitable will that drove Sullivan's teaching methods. "Mothers and fathers don't give babies vocabulary lessons or worry about teaching grammar-they just talk," Hopkinson points out after Helen and Annie have their famous breakthrough at the pump. How do you teach someone who neither sees nor hears the concept of "very"? How do you explain the workings of a preposition? The book could actually prompt a lively discussion among audiences wading into the thick of language arts. While Colon's (Alicia Alonso: Prima Ballerina) crisply inked, sepia-toned watercolors take readers back in time and echo the mood of the archival photos shown on the endpapers, they provide less of a sense of the deep emotional connection between these two extraordinary people. Ages 4-8. Agent: Steven Malk, Writers House. Illustrator's agent: Morgan Gaynin. (Sept.) (c) Copyright PWxyz, LLC. All rights reserved.