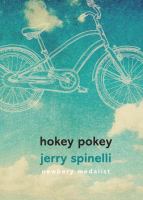 Book list
From Booklist, Copyright © American Library Association. Used with permission.

In the place called Hokey Pokey, the kids Newbies, Snotsippers, Gapergums, Sillynillys, Longspitters, Groundhog Chasers, and Big Kids are everywhere, doing what kids do: streaking, leaping, chasing, shrieking, hokeypokeying, and more. In short, playing. Yes, kids are everywhere, but there isn't an adult anywhere except for the Hokey Pokey Man, who brings square snowball treats to the kids. It's here in this eccentric place that Jack, a popular Big Kid, awakens one morning to hear the whispered words It's time. Could this have something to do with the story all the kids know, in which The Kid announces, I am going away ? Readers will find out as they follow Jack throughout one memorable day of discoveries, including the knowledge of something called tomorrow. Spinelli has written a tender, bittersweet story of coming of age and the changes and leave-takings it involves. In its spirit and style, the novel evokes Ray Bradbury's sometimes sentimental, nostalgic work, especially Dandelion Wine. Spinelli remains his own man, however, and his latest sui generis novel is sure to delight his many fans. HIGH-DEMAND BACKSTORY: An extensive outreach campaign that ranges from a designated hashtag to a national author tour has put this title on the radar of readers well beyond Spinelli's already large audience.--Cart, Michael Copyright 2010 Booklist
---
School Library Journal
(c) Copyright Library Journals LLC, a wholly owned subsidiary of Media Source, Inc. No redistribution permitted.

Gr 5-7-Hokey Pokey is a place where children live and rule themselves, riding bicycles like horses, watching cartoons on huge outdoor screens, throwing tantrums and getting hugged, all without an adult in sight. Their lives are almost pure joy as they dance the eponymous dance, savor the eponymous frozen treat, and listen to The Story of the Kid through little shells they carry in their pockets. Jack is their hero and ringleader, dealing with bully Harold the Destroyer, teaching Kiki lessons in sports and Lopez lessons in life, until the day things begin to change. Jack wakes to find that his beloved bike, Scramjet, has been commandeered by Jubilee, whom he despises because she's a girl. Answering his Tarzan cry of despair, Amigos LaJo and Dusty race to his side and notice before he does that Jack's stomach tattoo, given to all children once they're out of diapers, is starting to disappear. Fighting against the realization that Jack is going to leave them, they lure him into one last bike roundup, roping him and tying him down until Jubilee releases him, recognizing that he cannot resist the pull away from all of them toward the Forbidden Hut and the Train, and into The Story. Using elements of myth, allegory, fantasy, and not-quite science fiction, Spinelli has skillfully combined a stream-of-consciousness narrative with delicious inventive language to create a vivid, dreamlike world. This unforgettable coming-of-age story will resonate with tween readers and take its rightful place beside the author's Maniac Magee (Little, Brown, 1990) and Louis Sachar's Holes (Farrar, 1998).-Marie Orlando, formerly at Suffolk Cooperative Library System, Bellport, NY (c) Copyright 2013. Library Journals LLC, a wholly owned subsidiary of Media Source, Inc. No redistribution permitted.
---
Publishers Weekly
(c) Copyright PWxyz, LLC. All rights reserved

Spinelli (Jake and Lily) creates a surreal landscape reminiscent of J.M. Barrie's Never Land in this poignant celebration of childhood exuberance. Don't bother looking for adults in Hokey Pokey, where boys and girls dine on flavored ice and spend their days watching cartoons, playing cowboy games, and using their bicycles as trusty steeds. Jack's bike, Scramjet, is the most coveted of all, and one day it's stolen by his archenemy, Jubilee. This marks the first of a series of unsettling events that give Jack, a boy on the brink of adolescence, the eerie impression that "things have shifted." It isn't just that his tattoo, the mark of all residents, is fading; something deep inside him is pulling him away from familiar landmarks, friends, enemies, and routines. Spinelli's story will set imaginations spinning and keep readers guessing about Jack's fate and what Hokey Pokey is all about (so to speak). The ending is both inevitable and a risk (it invokes one of the more cliched tropes in literature and film), but Spinelli's dizzying portrait of life in Hokey Pokey will keep readers rapt. Ages 10-up. (Jan.) (c) Copyright PWxyz, LLC. All rights reserved.