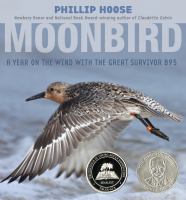 Book list
From Booklist, Copyright © American Library Association. Used with permission.

*Starred Review* Hoose, the author of The Race to Save the Lord God Bird (2004) and the heavily awarded Claudette Colvin: Twice toward Justice (2009), now turns his attention to another endangered bird, the rufa red knot. He focuses on one, B95 (dubbed Moonbird by researchers), which he calls one of the world's premiere athletes, explaining that though weighing a mere four ounces, he's flown more than 325,000 miles in his lifetime. Each year red knots like Moonbird fly from their winter home in Tierra del Fuego, Argentina, to their breeding grounds in the Canadian Arctic, a journey of 9,000 miles. B95, now 20 years old, has made this remarkable flight 18 or more times. In this beautifully written and meticulously researched book, Hoose provides a complete account of the red knots' physiology, their flight patterns, feeding habits, habitats, and more. He also writes about those who study the birds and struggle to preserve the endangered species, which has dwindled in numbers from some 150,000 to less than 25,000. In addition to his attention to the birds, Hoose profiles those who study them and also provides a generous number of photographs, maps, and sidebar features that dole out background and ancillary material. His appendix includes elaborate source notes and an extensive bibliography. Sure to be one of the most well-received information books of the year, and deservedly so. HIGH-DEMAND BACKSTORY: Hoose's stature as a preeminent nonfiction author combined with the high-interest animal hook will generate hearty attention and enthusiasm for this one.--Cart, Michael Copyright 2010 Booklist
---
School Library Journal
(c) Copyright Library Journals LLC, a wholly owned subsidiary of Media Source, Inc. No redistribution permitted.

Gr 6 Up-Moonbird is a nickname scientists have given to a small Eastern shorebird known for both his unusually long life and his enormously long annual migration. Hoose intertwines the story of this bird's remarkable survival with detailed accounts of the rufa red knot's physical changes through its yearlong cycle of migrating from the bottom of the world (usually Tierra del Fuego) to its Arctic breeding grounds and back again at summer's end-a round trip of some 18,000 miles. Moonbird, known usually by the identifying label "B95" on his orange leg band, was first banded in 1995, when it was thought that he was at least three years old, and Hoose notes sightings of him through early 2011 just as the book was reaching completion. At that point it was estimated that over 20 years' time, B95 had flown "more than 325,000 miles in his life-the distance to the moon and nearly halfway back." The feat is particularly celebrated among bird scientists because this species is rapidly declining as humans use and misuse its feeding grounds and food supply. The threatened state of the species and the personal work being done by scientists and conservationists are strong themes throughout the book. Hoose describes his own experiences participating in study trips and introduces children and teens engaged in study, conservation, and lobbying projects in Canada, the United States, and Argentina. This deeply researched, engaging account is a substantial and well-designed package of information illustrated with handsome color photographs, ample maps, appended descriptions of the conservation work, and thorough source notes.-Margaret Bush, Simmons College, Boston (c) Copyright 2012. Library Journals LLC, a wholly owned subsidiary of Media Source, Inc. No redistribution permitted.
---
Publishers Weekly
(c) Copyright PWxyz, LLC. All rights reserved

National Book Award-winner Hoose (Claudette Colvin: Twice Toward Justice) introduces readers to the small rufa red knot shorebird known as B95, which makes an 18,000-mile migratory circuit from the bottom of the world to the top and back again each year. "Something about this bird was exceptional; he seemed to possess some extraordinary combination of physical toughness, navigational skill, judgment, and luck," writes Hoose. Eight chapters offer an extraordinarily detailed look at everything red knot, from a description of its migratory paths and the food found at each stopover to the physiology of its bill and factors that threaten the species with extinction. Profiles of bird scientists or activists conclude most chapters. The information-packed narrative jumps between past and present as it follows a postulated migration of B95, accompanied by numerous sidebars, diagrams, maps, and full-color photographs. Readers will appreciate Hoose's thorough approach in contextualizing this amazing, itinerant creature that was last spotted in 2011. Those motivated to action will find an appendix of ways to get involved. An index, extensive source notes, and bibliography are included. Ages 10-up. (July) (c) Copyright PWxyz, LLC. All rights reserved.