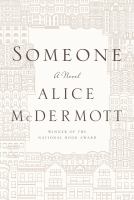 Publishers Weekly
(c) Copyright PWxyz, LLC. All rights reserved

In this deceptively simple tour de force, McDermott (Charming Billy, winner of the National Book Award) lays bare the keenly observed life of Marie Commeford, an ordinary woman whose compromised eyesight makes her both figuratively and literally unable to see the world for what it is. When we meet her on the steps of her Brooklyn townhouse, she's a bespectacled seven-year-old waiting for her father; McDermott then leaps ahead, when Marie, pregnant with her first child, recalls collapsing at a deli counter and the narrative plunges us into a world where death is literally just around the corner, upending the safety and comfort of her neighborhood; "In a few months' time, I would be at death's door, last rites and all," she relates. We follow Marie through the milestones of her life, shadowed by her elder brother, Gabe, who mysteriously leaves the priesthood for which everyone thought he was destined. The story of Marie's life unfolds in a nonlinear fashion: McDermott describes the loss of Marie's father, her first experience with intimacy, her first job (in a funeral parlor of all places), her marriage, the birth of a child. We come to feel for this unremarkable woman, whose vulnerability makes her all the more winning-and makes her worthy of our attention. And that's why McDermott, a three-time Pulitzer nominee, is such an exceptional writer: in her hands, an uncomplicated life becomes singularly fascinating, revealing the heart of a woman whose defeats make us ache and whose triumphs we cheer. Marie's vision (and ours) eventually clears, and she comes to understand that what she so often failed to see lay right in front of her eyes. Agent: Sarah Burnes, Gernert Company. (Sept.) (c) Copyright PWxyz, LLC. All rights reserved.
---
Library Journal
(c) Copyright Library Journals LLC, a wholly owned subsidiary of Media Source, Inc. No redistribution permitted.

All people are interesting if we only know their story. When readers first meet Marie Commeford, she is seven years old, waiting on the steps for her father to return to their Brooklyn home. From a chance encounter with a hapless neighbor girl that same day to her parents' deaths, through World War II, Marie's first sexual encounter, marriage and children, to her brother's sudden departure from the priesthood, this novel moves from one emotionally rich touch point to the next in a nonlinear narrative that echoes memory itself. Winner of the National Book Award for Charming Billy, novelist McDermott continues to captivate readers by delving into ordinary, daily life with skill and compassion, showing us that we can't always see at the time what will be meaningful in our lives. VERDICT While McDermott's is a quiet style, fans of her earlier work will be thrilled to come across this simple, bittersweet story that will find appeal among readers of Alice Munro and Ann Patchett. [See Prepub Alert, 3/11/13.]-Gwen Vredevoogd, Marymount Univ. Libs., Arlington, VA (c) Copyright 2013. Library Journals LLC, a wholly owned subsidiary of Media Source, Inc. No redistribution permitted.
---
Book list
From Booklist, Copyright © American Library Association. Used with permission.

*Starred Review* Who is going to love me? Marie asks her older brother, Gabe, after her heart is broken. Someone, he replies. How humble this pronoun is, and what a provocative title it makes. Readers who love refined, unhurried, emotionally fluent fiction will rejoice at National Book Award-winner McDermott's return. McDermott (After This, 2006) is a master of hidden intensities, intricate textures, spiked dialogue, and sparkling wit. We first meet Marie at age seven, when she's sitting on the stoop in her tight-knit, Irish-Catholic Brooklyn neighborhood, waiting for her father to come home from work. Down the street, boys play stickball, consulting with dapper Billy, their blind umpire, an injured WWI vet. Tragedies and scandals surge through the enclave, providing rough initiations into sex and death. Gabe becomes a priest. Marie works at a funeral home as a consoling angel, acquiring cryptic clues to the mysteries of life via teatime gossip sessions with the director's wise mother and a circle of wryly knowing nuns. Eventually Marie finds joy as a wife and mother, while Gabe struggles with his faith and sexuality. A marvel of subtle modulations, McDermott's keenly observed, fluently humane, quietly enthralling novel of conformity and selfhood, of lace-curtain pretensions as shield and camouflage, celebrates family, community, and the grace of a shared past. HIGH-DEMAND BACKSTORY: A new McDermott novel is big news, and Someone will be heralded nationally with an author tour and enhanced cross-country publicity in all media.--Seaman, Donna Copyright 2010 Booklist