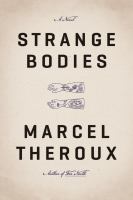 Publishers Weekly
(c) Copyright PWxyz, LLC. All rights reserved

Literary science fiction has portrayed walking dead, living dead, undead, and to this mix Theroux now adds strange bodies (mankurt), in a strange, satisfying novel about possession featuring a literary scholar, a music mogul, assorted East European thugs, and the long dead but still articulate Dr. Samuel Johnson. A gloomy English academic with an unappreciated gift for forensic nuance, Nicholas Slopen is in serious need of money when entrepreneur/collector Hunter Gould asks him to authenticate papers purported to be Dr. Johnson's handiwork. Close examination convinces Nicholas the papers are indeed Johnson's, but also that they are fakes (the papers' old-fashioned script on more modern material suggests foul play). Sure enough, Nicholas is drawn into a network of enslaved human bodies inhabited by the souls of dead people. Following the death of the human currently inhabited by Johnson, Nicholas undergoes a crypto-scientific procedure reminiscent of something from an old horror movie, after which he finds his body inhabited by someone else, while his soul is trapped inside an ex-convict's sturdy, tattooed physique. Attempting to explain himself to his ex-wife lands Nicholas in the modern incarnation of Bedlam. Theroux recounts this contemporary gothic tale in Nicholas's own words, those of the women Nicholas reaches out to, doctors' notes, and e-mails, demonstrating mastery of diverse styles, including Johnson's. Observations about science, medicine, psychology, love, madness, and literature result in a thought-provoking and engaging fusion of comedy and horror, irony and insight. Agent: Elizabeth Sheinkman, WME Entertainment. (Feb.) (c) Copyright PWxyz, LLC. All rights reserved.
---
Library Journal
(c) Copyright Library Journals LLC, a wholly owned subsidiary of Media Source, Inc. No redistribution permitted.

National Book Award finalist Theroux (The Far North) opens this new novel with protagonist and scholar Nicholas Slopen-recently deceased, who is paradoxically now living in another body. The book then unspools into a fascinating tale about how this transformation came about. Revealed is the concept that original text can be used to re-create the consciousness of the author in another body. The person does not even have to be alive if enough information, such as letters or opinions, written by the author exists; thus, writers from the past can even be reanimated. The way in which the narrator deals with the ethical, mechanical, and psychological problems that arise makes this reading experience truly enthralling. The detailed renderings of Slopen's emotions, especially with regard to family and literature, provide an intense and nuanced examination of the plight of being. -VERDICT The particulars of the science aside, this work is essentially asking a compelling question about identity: What makes us who we are? Here Philip K. Dick's The Transmigration of Timothy Archer meets Stephenie Meyer's The Host in this very highly recommended work. [See Prepub Alert, 8/12/13.]-Henry Bankhead, Los Gatos Lib., CA (c) Copyright 2013. Library Journals LLC, a wholly owned subsidiary of Media Source, Inc. No redistribution permitted.
---
Book list
From Booklist, Copyright © American Library Association. Used with permission.

If the world belongs to the living, Who on earth is deader than me? reflects Nicholas Slopen at the terminus of his strange second life in this poignant literary sf novel. When Nicholas, a literary scholar with a wife and two children, is asked to authenticate newly discovered papers written by Dr. Samuel Johnson, he believes he's uncovered nothing more than an embarrassing case of forgery. The amateurish aging of the materials can't conceal the new blemish-free paper and ink. Instead, his investigation leads him down the rabbit hole, to a Russian technological conspiracy where the souls of the dead are implanted in, as Nicholas sees it, enslaved human bodies. Then he is killed in a terrible accident and wakes up in a stranger's body. His attempts to reintegrate into his old life are disastrous, landing him in an insane asylum, where he writes his missive on this life-in-death. Theroux explores the ethical and philosophical ramifications in a quiet, ruminative style that gives equal weight to the horror and beauty of being.--Hutley, Krista Copyright 2015 Booklist