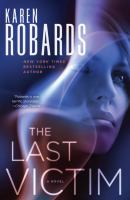 Publishers Weekly
(c) Copyright PWxyz, LLC. All rights reserved

Bestseller Robards (Sleepwalker) kicks off a paranormal romantic suspense series with this engaging but uneven tale of serial murder and ghosts. When she was 17, Dr. Charlotte "Charlie" Stone was the sole survivor of a horrific attack by the Boardwalk Killer and has spent her life studying serial killers as a result. Fifteen years later, Charlie is called in to help the FBI solve a series of murders eerily similar to those committed by the Boardwalk Killer. In addition to her psychiatric knowledge, Charlie also has the ability to see ghosts, like Michael Garland, an inmate Charlie was studying before he was stabbed to death. Michael's ghost becomes attached to Charlie, and Charlie surprisingly finds herself turning to Michael for comfort as the Boardwalk Killer, or a copycat, escalates his killing spree. Robards sets up an interesting dynamic between Charlie and Michael, but too much focus on their relationship overshadows the hunt for the Boardwalk Killer. Agent: Robert Gottlieb, Trident Media Group. (Aug.) (c) Copyright PWxyz, LLC. All rights reserved.
---
Book list
From Booklist, Copyright © American Library Association. Used with permission.

Charlie Stone, thirtysomething, single, and attractive, is the only known survivor of the infamous Boardwalk Killer. Fifteen years later, as a psychiatrist researching serial killers on death row, she encounters murderers in the safety of a cinder-block room with plenty of chains and a guard. That is, until the Boardwalk Killer returns, and she is called upon by the FBI to assist in the investigation. But there's more! The ever-popular and tireless Robards grants Charlie psychic abilities: she can see and talk to the ghosts of the recently, violently departed. Inconveniently for Charlie, she is also doggedly, comically haunted by the ghost of the devilishly handsome Garland, one of her research subjects. Robards successfully infuses the thrilling murder investigation with the unlikely, even otherworldly, but definitely steamy romance between specter and woman. Charlie's exasperation with Garland and his bad-boy-with-a-nice-side charm make for a tantalizing sexual tension. Readers may question the likelihood of a serial killer (alive or otherwise) sweeping Charlie off her feet, but that near taboo only adds to their chemistry. A fun and sexy read.--Hunter, Sarah Copyright 2010 Booklist
---
Library Journal
(c) Copyright 2010. Library Journals LLC, a wholly owned subsidiary of Media Source, Inc. No redistribution permitted.

Fifteen years ago Charlotte (Charlie) Stone witnessed the brutal murder of her friend's family by the infamous Boardwalk Killer. The same killer seems to be back at work, and Charlie, now a psychiatric expert in serial killers, has been called in to help the feds, including attractive FBI agent Tony Bartoli. But Charlie has a well-kept secret: she can see the dead. While this trait is sometimes useful, at the moment she is being haunted by a hunky psychopath who takes perverted pleasure in keeping her off balance but needs her help as well. VERDICT Violent and eerie, with a whisper of humor, this clever paranormal is a tantalizing, nonstop read and the first in a projected series. Robards (Sleepwalker) lives is Louisville, KY. (c) Copyright 2012. Library Journals LLC, a wholly owned subsidiary of Media Source, Inc. No redistribution permitted.