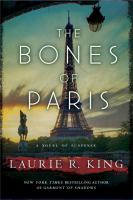 Library Journal
(c) Copyright Library Journals LLC, a wholly owned subsidiary of Media Source, Inc. No redistribution permitted.

King's latest book is both a chilling mystery and a haunting love letter to the Paris of Hemingway's Lost Generation, including Hemingway himself. In September 1929, Harris Stuyvesant, the American private investigator first introduced in Touchstone, explores the city's streets and alleys, cafes and bars, searching for a missing young woman from Boston who may be dead. He socializes with everyone who was anyone in Paris in that last glorious autumn before the stock market crash. Harris's only hope of catching a serial killer is the dutiful police detective who stole his ex-lover's heart-if the cop doesn't arrest him first. Verdict It takes the reader a significant investment of time to reach the conclusion that there has been an actual murder and even longer to figure out who the suspects are. Murder is beside the point here, with the novel offering instead a paean to Jazz Age Paris, which King clearly evokes. The reader walks those streets with Harris, rubbing elbows with Man Ray and Hemingway. Recommended for readers interested in historical fiction set in the era and literary mysteries. [Library marketing.]-Marlene Harris, Seattle P.L. (c) Copyright 2013. Library Journals LLC, a wholly owned subsidiary of Media Source, Inc. No redistribution permitted.
---
Book list
From Booklist, Copyright © American Library Association. Used with permission.

*Starred Review* King takes a break from her popular Mary Russell series to return to the story of Harris Stuyvesant from Touchstone (2008). Formerly an FBI agent and now a dissolute PI, Harris is still haunted by the events in the earlier book, which left his lover, Sarah, maimed. Needing work, he accepts a missing-persons job that takes him to Paris in 1929 and offers the possibility of reuniting with Sarah. Fans of Woody Allen's Midnight in Paris will feel right at home in the Jazz Age Paris setting, though many of the famous Lost Generation figures are portrayed in a much less flattering light here (artist Man Ray, in particular, is a misogynist and murder suspect). The story is complex, more than a little kinky, and absolutely fascinating. The missing girl Harris seeks turns out to be only one of many missing persons who came into the orbit of a group of offbeat Parisian artists whose credo demands that art be visceral. Could the infamous Moreau, who creates tableaux using human bones to suggest the corruption of the flesh, be somehow connected to the missing young people? Harris noses about through familiar Left Bank haunts, encountering the era's usual suspects (Hemingway, Sylvia Beach, Cole Porter, and Josephine Baker, among them), but beyond the cameos and the bohemian atmosphere, there is a compelling thriller here and some fascinating fictional characters to go with the real-life ones. As always with King, the plot is tricky but marvelously constructed, delivering twists that not only surprise but also deepen the story and its multiple levels of meaning. Break out that dusty bottle of absinthe you have stored away and settle in for a treat. HIGH-DEMAND BACKSTORY: King's Mary Russell novels are her biggest sellers, but Touchstone hit the extended New York Times list, and this follow-up has Paris and the Lost Generation going for it. And don't discount the web-savvy King, who does online promotion as well as any author out there.--Ott, Bill Copyright 2010 Booklist
---
Publishers Weekly
(c) Copyright PWxyz, LLC. All rights reserved

Edgar-winner King delivers a sequel to 2008's Touchstone with this impressive mystery set in 1929 Paris. In the arresting preface, set in Cornwall, Bennett Grey receives a letter from Harris Stuyvesant, his friend but "a man whose motives Grey had reason to distrust," containing four photographs whose contents are so disturbing that the suicidal Grey burns them immediately. The action then shifts to Paris 10 days earlier, where Stuyvesant, a former FBI man who left on bad terms with Hoover, is trying to trace a missing 22-year-old American woman, Pip Crosby. To the investigator, Crosby is just "one in a string of mostly blonde, mostly young women" who shared his bed, adding a patina of guilt to his inquiries. The trail leads him to a tantalizing mystery involving the Theatre du Grand-Guignol and artists who use human bones to create their work.Readers will hope to see more of Grey, who is absent for most of this story, and Stuyvesant in future books. Agent: Linda Allen, Linda Allen Literary Agency. (Sept.) (c) Copyright PWxyz, LLC. All rights reserved.