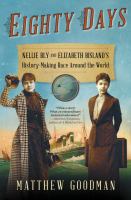 Book list
From Booklist, Copyright © American Library Association. Used with permission.

Goodman deftly re-creates the frenzy surrounding Nellie Bly and Elizabeth Bisland's infamous race around the world in 1889. While the adventures of Bly, intrepid reporter for Joseph Pulitzer's The World, have survived and been embellished over the last century, genteel literary critic Bisland's story has sadly fallen by the wayside. Goodman corrects that historical omission by interweaving both their journeys as the two women set out in opposite directions, equally committed to the idea of achieving the record for the fastest trip around the world. Inspired by Jules Verne's fantastical Around the World in 80 Days, Bly confidently expected to top the fictional feat of Phileas Fogg. Determined not to be outdone by Pulitzer, Cosmopolitan magazine commissioned Bisland, who set out one day later, to race against both Bly and time in an effort to cross the figurative finish line first. As a riveted world watched, these two women galloped around the globe via fortitude and an array of both modern and old-style transportation. Urge armchair travelers to hop on board as Nellie and Liz strike a blow for both feminism and the burgeoning Victorian travel industry.--Flanagan, Margaret Copyright 2010 Booklist
---
Publishers Weekly
(c) Copyright PWxyz, LLC. All rights reserved

Two pioneering women hurtle across the globe-and into a changing future-in this stimulating true-life adventure story. Historian Goodman (The Sun and the Moon) follows the 1889 voyages of Nellie Bly, a New York World reporter who embarked on a headline-grabbing assignment to circumnavigate the world in a record-setting 75 days, emulating Jules Verne's novel Around the World in 80 Days, and Elisabeth Brisland, a literary essayist press-ganged by her magazine's owner into racing Bly around the world in the opposite direction. Goodman vividly recreates their stormy, sea-sick travels and exotic Eastern ports of call while examining the revolutionary 19th-century culture of journeying: the proliferating webs of railways and luxury steamships; the swaggering might of the British Empire that guaranteed safe passage; Westerners' sense of wonder at encountering unfamiliar peoples-and their casually bigoted sense of entitlement to rule over them. He also draws fascinating portraits of two self-made women who captured America's imagination by defying its gender stereotypes. (When her editors balked at sending a woman, Bly vowed to beat any man sent in her place.) Deftly mixing social history into an absorbing travel epic, Goodman conveys the exuberant dynamism of a very unfusty Victorian era obsessed with speed, power, publicity, and the breaking of every barrier. Photos. (Mar.) (c) Copyright PWxyz, LLC. All rights reserved.
---
Library Journal
(c) Copyright Library Journals LLC, a wholly owned subsidiary of Media Source, Inc. No redistribution permitted.

In November 1889, two young women reporters, Nelly Bly and Elizabeth Bisland, one backed by a newspaper and the other by a monthly periodical, set off on a race to see who could make it first around the world. No one had actually beaten the fictional 80 days set by Phileas Fogg in Jules Verne's 1873 novel. Bly went east, Bisland west. Bly won, though there were allegations of fraud. (In France, a mysterious travel agent gave Bisland misleading directions, delaying her passage by several days.) In the interest of efficient travel, neither of the young women could do much en route except eat, sleep, and scurry from conveyance to conveyance as they traveled around the world at a dizzying pace. Goodman writes exceedingly well, producing an engaging book in which he manages as best he can to maintain a level of excitement by including fascinating contextual information on a number of topics, especially the barriers facing women who sought to break out of the mold of feminine acquiescence in the 1890s. VERDICT A delightful trifle-solid history, though not wide ranging-filled with energizing details. History lovers will eat it up.-David Keymer, Modesto, CA (c) Copyright 2013. Library Journals LLC, a wholly owned subsidiary of Media Source, Inc. No redistribution permitted.